Black Friday Bags - Week 1 Highlight
It is November, which means it is the best month of the year! Take advantage of all the events going on this month all leading up to the special Black Friday week event at the end of the month. Whether you are looking for bags to hand out as employee Christmas gifts or if you are already planning your promotional bags for the next year, read more to learn about our Black Friday week 1 highlight - bags, bags and even more bags!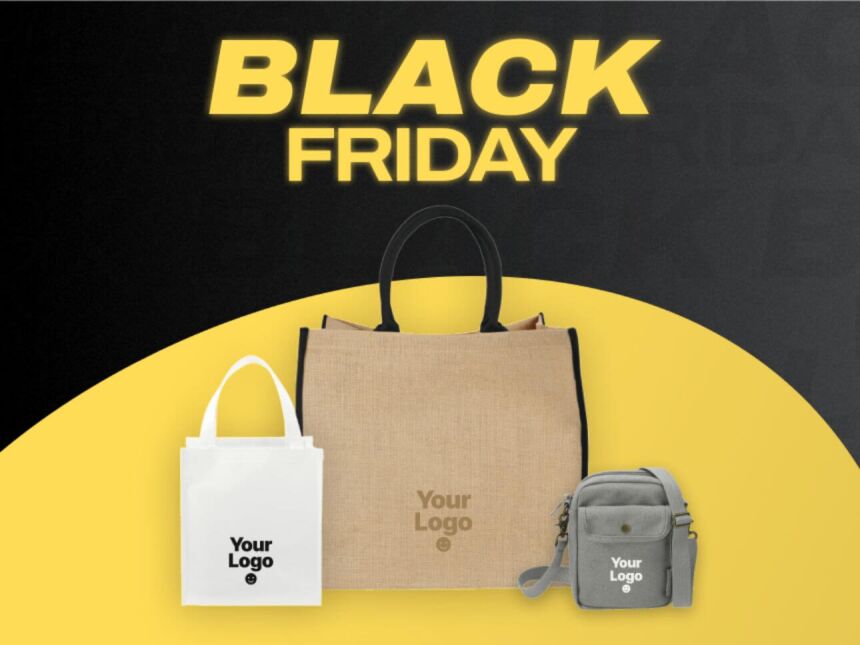 Cyber Monday is finally here! That means we have the biggest discounts of the year to help you get high-quality company swag without breaking the bank. For this week only (now - 12/4), you can apply our awesome Cyber Monday coupon to help you save sitewide on all your favorite categories:
Please note: There is a $500 minimum purchase.
November is finally here and that means - Black Friday! For the whole month, we will be highlighting some of our most popular products and categories so you can get an idea of what we have to offer. Be sure to stick around there, there might be a special reward for you during Black Friday week. So be sure to use these blog posts as a brainstorming session so you can order quickly when the time comes on November 25 this year.
Promotional Bags During Black Friday
While Black Friday might be most known for buying electronics and other types of tech products, do not forget about non-tech items. They are also often discounted and not to mention, they are a great way to promote your company and get more brand recognition while in the outside world. Here is a breakdown of some of our most popular bags and bag categories to help you make your decision for Black Friday. Be sure to check out the full list of our promotional Black Friday products here.
Black Friday Luggage
For many companies and businesses, traveling for work is essential. What better way to show some company pride than with promotional duffel bags. Bulk order your Black Friday luggage to hand out to all your employees who frequently need to travel for work. Not only will your staff be getting a thoughtful and practical gift, but your business will have increased visibility in the process. Stay professional with these sleek and modern luggage and duffel bags while still showing your appreciation.
High Sierra® 20" Hardside Luggage - From $92.89
High Sierra® 22" Switch Blade Sport Duffel Bag - From $40.19
Barrel 18" 5oz Cotton Canvas Duffel Bag - From $5.83
If you are interested in more travel accessories, be sure to check out our list of custom-printed travel accessories or our branded toiletry bags. Bulk something from each and add your logo to it to make a complete travel set for your jet-set employees or select lucky clients or partners.
Black Friday Backpacks
Backpacks are so functional, so practical and just plain useful! Plus, they are essential when working in a professional field. At allbranded, we offer a wide range of backpacks with various functions. That means, you can bulk order awesome company swag for various occasions.
We offer regular branded backpacks, but you can also upgrade to have custom-printed laptop backpacks.
elleven™ TSA 17" Computer Backpack - From $50.60
Rainier TSA 17" Computer Backpack - From $30.32
NBN Whitby Sling w/ USB Port - From $15.31
Black Friday Laptop Bags
We saved the best for last! Promotional laptop bags are so practical for the professional world. For those employees who commute to and from the office, these types of bags and backpacks are great. You can carry all your workday essentials in one bag and there is often a specific protective laptop sleeve to keep your device in good condition. Whether your staff rides public transportation to and from work or drives, these bags are really handy. Skip the small, flimsy bags where you need to carry more than one at a time and invest in a protective laptop bag or custom-printed laptop backpack this Black Friday.
Kenneth Cole® EZ-Scan Single Gusset Laptop Case - From $84.11
elleven™ TSA 17" Computer Attaché - From $45.93
Graphite 15" Computer Briefcase - From $13.12
Here is the full list of our top picks for Black Friday bags. Stay up to date and watch out for next week's product spotlight leading up to Black Friday.
More Black Friday & Cyber Monday Highlights
As we go along, you can see and learn about all of our special product highlights for this month. Check back next week for another memorable highlight. You can read more about how promotional items can boost your Black Friday sales. Your last change for employee Christmas gifts will be the week of Cyber Monday, so read more about our top picks for Cyber Monday gifts here.
Special Black Friday Surprise from allbranded
Sign up for the allbranded newsletter to stay up to date on everything we are working on, from Christmas gifts and Black Friday deals to sustainability topics and top monthly promotional products. You will be the first to hear about our upcoming promotions and specials - including any and all Black Friday promo codes or Cyber Monday deals. Stay in the loop this month when you register your email to the allbranded mailing list today!