Black Friday Notebooks - Week 3 Highlight
Stock up on all your important company swag items for the office with this week's highlight - notebooks. Bulk order some promotional notebooks to have at the office or send them to those employees who work remotely. Plus, we mention some custom office supplies & accessories you can add to complete your next online order.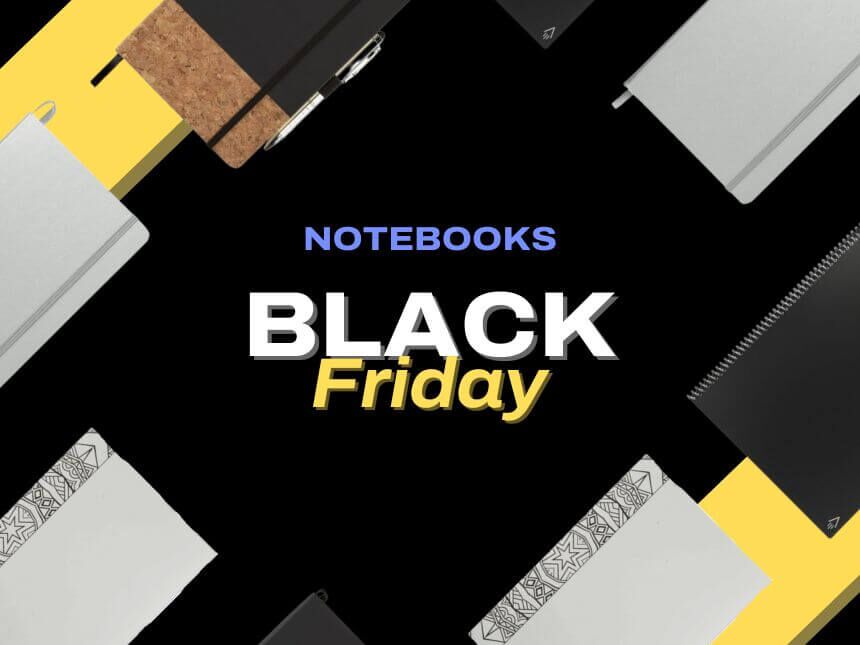 Cyber Monday is finally here! That means we have the biggest discounts of the year to help you get high-quality company swag without breaking the bank. For this week only (now - 12/4), you can apply our awesome Cyber Monday coupon to help you save sitewide on all your favorite categories:
Please note: There is a $500 minimum purchase.
Read on to learn more about one of our most popular company swag products - the classic notebook! See how you can bulk order some today and work them into your Black Friday campaign. These types of promo items also make great employee gifts too, so consider ordering some extras to hand out as employee Christmas gifts or holiday gifts.
Another edition of the Black Friday week highlights is here! This we will highlight one of the most common promotional items - notebooks. Just because they are classic does not mean they need to be boring. Notebooks are frequently featured among the top promotional products every month and for good reason. Many businesses and companies rely on these types of promo items for daily meetings and other various business notes, but having custom-printed notebooks takes your company to the next level in terms of professionalism. They are so practical that when you order, you should consider ordering more to hand out at your next trade show or business convention, or conference. Let's learn more about how you can use these personalized notebooks throughout the year.
Customized Notebooks
Personalized notebooks add a nice touch to any office. There are so many variations you can order too so you have the ability to get creative and choose the right notebook for your business or company. You can choose from our various sizes, colors and binding methods, like spiral notebooks. There are also options for various types of materials used including cork or recycled paper. There are also various types of notebooks, including hardcover or soft bound, so you know you can find the right product for you. If you want, you can also take a look at our full selection of custom-branded notebooks with pens. By ordering a notebook that already comes with a pen, you can hand out the whole set without paying a bunch of extra money for shipping or personalization costs.
With allbranded's easy to use ordering system, you can choose how many notebooks you would like and then you can choose where to imprint your logo. Simply upload your image to the site and you will get an artwork proof within a few short hours. Ordering promotional products online really can be that simple.
Personalized Padfolios
While padfolios might not be traditionally considered a notebook, they are so practical in the business world of today. At allbranded, you can choose from a wide variety of customized padfolios for your employees. These types of promotional products really take your professionalism to the next level because of how sleek they look. Many of our options are made from leather, or leather-like materials and many come with a zipper. Use these custom-printed padfolios around the office to hold all your notes or other official documents. These padfolios also often come with business card slots, refillable notebooks, pen loops, large pockets, and even a place for your phone.
Promotional Office Supplies
We know, office supplies can mean more than just notebooks, but hear us out. Maybe you want to create an onboarding box for new hires or if you want to create some goodie bags to hand out as employee gifts this year. Or, consider upgrading your office this year with some new company swag. Check our full list of custom office supplies and accessories, including a nice selection of sticky notes, stress relief products, magnets, mouse pads and more! We also have a nice selection of promotional pens for all your writing needs. For those companies or businesses who are more tech-focused, you should check out our selection of promotional styluses.
Check out some of the highlights we talked about below. For the full list of our products, be sure to check out our website. Bulk order your promotional items today!
More Black Friday Highlights
As we go along, you can see and learn about all of our special product highlights for this month. Check back next week for another memorable highlight. If you are too excited and simply cannot wait one minute longer, check out these posts. Read more about our Black Friday highlights series with ourBlack Friday - Week 1 Highlightpost all about promotional bags. Or check out our Black Friday - Week 2 Highlight - all about water bottles! You can also read more about how promotional items can boost your Black Friday sales. Your last chance for employee Christmas gifts will be the week of Cyber Monday, so read more about our top picks for Cyber Monday gifts here. Remember, we offer express products so you can feel taken care of with these last-minute holiday gifts.
Special Black Friday Surprise from allbranded
Sign up for the allbranded newsletter to stay up to date on everything we are working on, from Christmas gifts and Black Friday deals to sustainability topics and top monthly promotional products. You will be the first to hear about our upcoming promotions and specials - including any and all Black Friday promo codes and Cyber Monday deals. Stay in the loop this month when you register your email to the allbranded mailing list today!