Black Friday Power Banks - Week 4 Highlight
Avoid running out of phone battery with these custom-printed power banks for all your employees. They make the perfect gift or stocking stuffer for any employee who needs to travel for work or who goes into the office. Make charging on the go easy and plug-free. Bulk order some of your promotional power banks and mobile accessories today.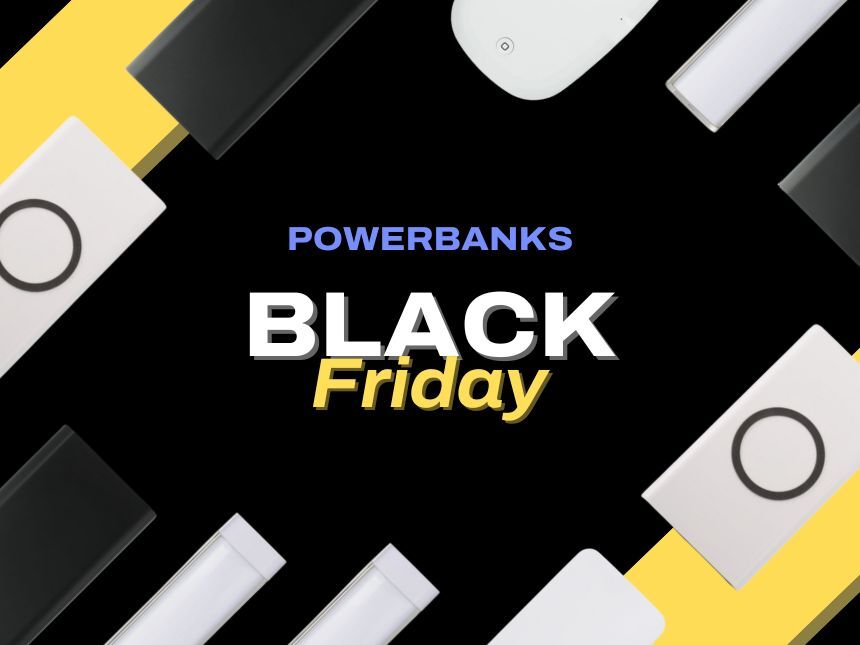 Cyber Monday and Cyber Week are finally here! That means we have the biggest discounts of the year to help you get high-quality company swag without breaking the bank. For this week only (now - 12/4), you can apply our awesome Cyber Monday coupon to help you save sitewide on all your favorite categories:
Please note: There is a $500 minimum purchase.
For this week though, we want to highlight one of the best-selling categories - power banks! These promotional power banks are so practical in every kind of setting. Portable chargers are really great for charging a variety of things, from smartphones to tablets and more. Stay connected to others without worrying about your device dying on you. Read on to learn more about ways you can keep your devices charged for every kind of setting
Professional Setting
These types of chargers are great to keep around or on every desk. Whether you go into the office every day or you work from home, these promotional wireless chargers are a great professional lifesaver. Many of these chargers plug right into your laptop or computer for maximum convenience. Then, in order to charge your devices, you simply need to lay your smartphone on top of the wireless charging device. These chargers work with most phones, so whether or not your staff has the latest Samsung, iPhone, or another device, their phone should be compatible with this wireless charging device.
Personal Setting
A versatile gift is something that makes a great promotional product. Ordering a product that can be used in a professional and personal setting is more likely to be used and therefore, your brand can get more recognition. Power banks are just that type of product. Yes, these products could be used for work, but they can also be used while you are out and about or while you are at school. An educational setting is perfect for the use of power banks. Your teachers, professors, or administrators might have a lot of meetings throughout the day, making it difficult to charge their phones and other smart devices. Bulk order and imprint your school or university logo on them, then hand them out to everyone on your staff. Everyone who receives a branded power bank will no longer run out of battery.
Promotional Stocking Stuffers
There are a wide variety of other promotional mobile accessories you can expect to find when you shop at allbranded. If you want to add some more promotional stocking stuffers, you should consider throwing in some other mobile accessories or even some personalized desk items for your workers.
Check out some of our top picks for power banks, wireless chargers, and other mobile accessories below. We hope you enjoyed our special Black Friday weekly highlight. Come back for more next week with our Cyber Monday and Cyber Week highlights.
More Black Friday Highlights
As we go along, you can see and learn about all of our special product highlights for this month. Check back next week for another memorable highlight. If you are too excited and simply cannot wait one minute longer, check out these posts. Read more about our Black Friday highlights series with our first post Black Friday - Week 1 Highlight post all about promotional bags. Or check out our second Black Friday - Week 2 Highlight - all about water bottles! Our most recent highlight Black Friday - Week 3 Highlight is all about notebooks. You can also read more about how promotional items can boost your Black Friday sales. Your last chance for employee Christmas gifts will be the week of Cyber Monday, so read more about our top picks for Cyber Monday gifts here. Remember, we offer express products so you can feel taken care of with these last-minute holiday gifts.
Special Black Friday Surprise from allbranded
Sign up for the allbranded newsletter to stay up to date on everything we are working on, from Christmas gifts and Black Friday deals to sustainability topics and top monthly promotional products. You will be the first to hear about our upcoming promotions and specials - including any and all Black Friday promo codes and Cyber Monday deals. Stay in the loop this month when you register your email to the allbranded mailing list today!