Black Friday Water Bottles - Week 2 Product Highlight
This week, we will take a look at our Black Friday water bottle deal highlights to showcase some of our top water bottles. Plus, we will discuss tips and tricks about how you can incorporate promotional water bottles into your company's Black Friday strategy.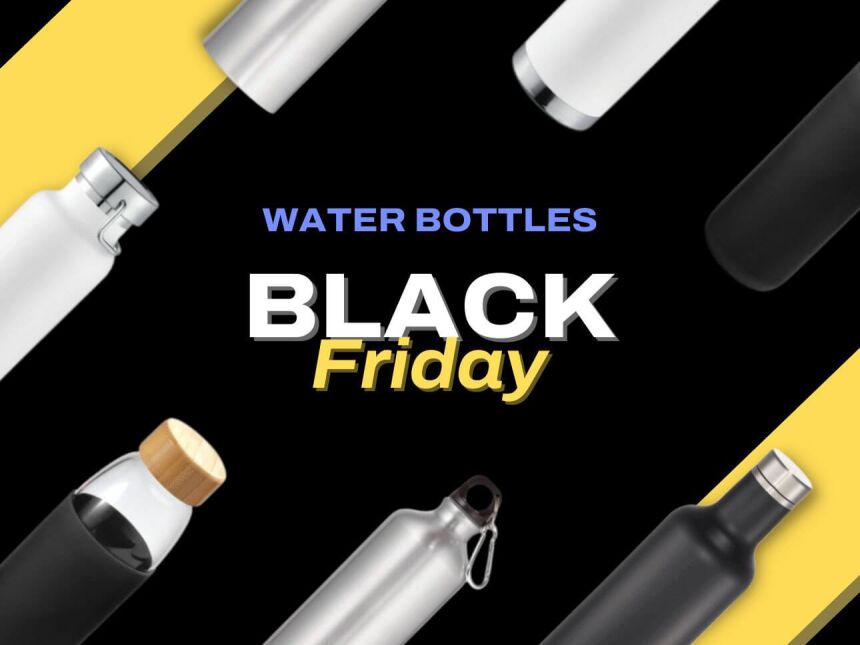 Cyber Monday is finally here! That means we have the biggest discounts of the year to help you get high-quality company swag without breaking the bank. For this week only (now - 12/4), you can apply our awesome Cyber Monday coupon to help you save sitewide on all your favorite categories:
Please note: There is a $500 minimum purchase.
We are back with another Black Friday week highlight! This week, it is one of our most popular product categories - water bottles! Water bottles are considered essentials, not only as promotional products, but also because they are so practical and handy for everyday use so consider bulk ordering some for your company. We will also discuss how you can use custom-printed water bottles as a promotional item during your company's or store's Black Friday sale. Or you can use this time to take advantage of our express promotional products to order some employee Christmas gifts to hand out this year.
Black Friday Water Bottle Deals
At allbranded, we offer a wide range of water bottles you can choose from for your Black Friday campaign this year. Choose various materials, sizes, colors and more. Read on to learn about some of our top picks for this year's Black Friday.
Water Bottles
There are various glass and metal water bottles you can choose from including stainless steel, aluminum and copper bottles. Metal or glass water bottles are great because they are more eco-friendly than single-use plastic ones. While most reusable water bottles are considered to be eco-friendly promotional products, metal and glass ones are longer lasting and don't use any type of plastic. Here are our picks of some of the most popular metal water bottles you can use this Black Friday.
Sports Bottles
While water bottles can be used for any type of event, custom-printed sports bottles are great for those who are always on the go. These bottles are great for traveling or exercising because many have the push/pull tops, making it easy to open the bottle without your hands. Many also come with straws, for even easier hands-free access. Whether you have a lot of employees who frequently travel for work or if you have some gym rats, these sports bottles are great. Add your logo to them and hand them out to everyone to encourage them to stay hydrated at all times during the day.
Here is the full list of our top picks for Black Friday water bottles. Stay up to date and watch out for next week's product spotlight leading up to Black Friday. In the meantime, you can check out our full list of Black Friday promotional products to help inspire you.
Promotional Water Bottles for Black Friday
Now that you have bulk ordered some water bottles with your company's logo or design, you can start to consider how you will use them for your Black Friday campaign. Here are some tips for you to incorporate these promotional water bottles into your Black Friday strategy.
Promote Your Black Friday Sale in Advance
Even before your sale is set to begin, you can get people excited to come back for Black Friday by handing out some of these bottles in advance. Since they have your logo or company name on them, people will remember where they should go when the sales start.
Social Media Giveaway
If your business depends on social media, it could be fun to run a special campaign for some lucky followers or customers to win something special. You can offer products from your site along with one of these water bottles printed with your logo for a special reward. Start the campaign before Black Friday to encourage people to get excited about your Black Friday sale.
Free Gift with Purchase
Due to the practicality of water bottles, it makes a lot of sense that you could hand out some branded water bottles as a free gift with purchase. Your customers will remember you well beyond this Black Friday sale. You can opt for the minimum purchase needed to get the free water bottle gift.
Customer Loyalty
If you want to take it a step further, you could consider handing out these water bottles as a free gift to only your most loyal customers. This will let those customers know that they mean a lot to you and you value their investment in your business.
Follow Up after Black Friday
Much like the customer loyalty idea, you could even take it a step further to send some of these customers a gift after Black Friday. This will create more empathy and create a nicer shopping experience for your favorite customers. A practical and functional branded water bottle would be a great thank you gift.
More Black Friday Highlights
As we go along, you can see and learn about all of our special product highlights for this month. Check back next week for another memorable highlight. If you are too excited and simply cannot wait one minute longer, check out these posts. Read more about our Black Friday highlights series with our Black Friday - Week 1 Highlight post all about promotional bags. You can also read more about how promotional items can boost your Black Friday sales. Your last chance for employee Christmas gifts will be the week of Cyber Monday, so read more about our top picks for Cyber Monday gifts here. Remember, we offer express products so you can feel taken care of with these last-minute holiday gifts.
Special Black Friday Surprise from allbranded
Sign up for the allbranded newsletter to stay up to date on everything we are working on, from Christmas gifts and Black Friday deals to sustainability topics and top monthly promotional products. You will be the first to hear about our upcoming promotions and specials - including any and all Black Friday promo codes and Cyber Monday deals. Stay in the loop this month when you register your email to the allbranded mailing list today!