Mix & Match Products For A Perfectly Packaged™ Swag Box!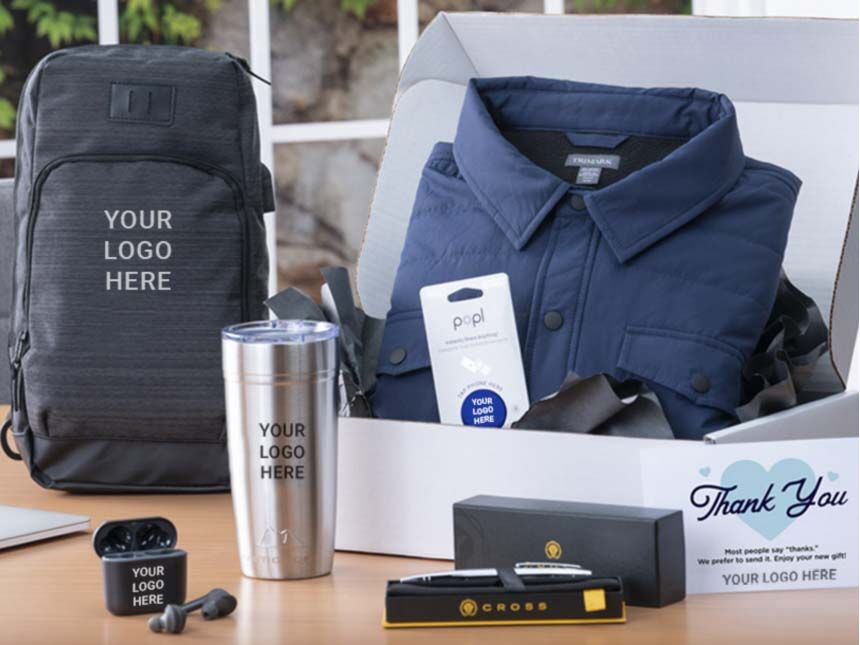 What The Heck Is A Promotional Swag Box?
We offer a Perfectly Packaged™ service! It's easier than ever to make gifts extra special and more personalized. You simply pick the products you want, provide us with your business logo, and we'll put it all together in packaging that your target audience will love. Even better, we'll send it straight to their doorstep – at no extra cost! No matter your budget you will be able to find the right products to put together to make your next giveaway even more special in a branded gift friendly box with a personal message!
Benefits of Custom Perfectly Packaged Swag Boxes
The main reason to go with a swag box is that it offers variety and looks clean over a singular traditional packed promotional giveaway. With multiple size options to choose from and tons of price ranges to meet your budget you can give your audience a few branded items with your company logo that are made of good quality and presented in a modern fresh way. Whoever receives one of your mix and matched boxes will surely be happy as consumers reported they preferred a gift that gave options and felt that it made the company gift seem more special and showed that they really cared about them.
Perfect Situations for Mix & Match Promotional Boxes
With the world going more digital as each day passes and with the pandemic we see more businesses moving to working from home, The popularity of corporate swag boxes has increased from this as companies have wanted to boost morale for their employees, partners or clients while still earning brand awareness and promoting brand loyalty. Businesses alike can choose a few different products to make their audience's day easier or give them an outlet to relax when they are not working. Digital Events and Tradeshows have been taking advantage of promotional swag boxes as well providing guests a custom built package with their admission ticket that would arrive before the event or show took place and was filled with items that would be utilized throughout their experience. Large tech companies have been also joining the trend of custom boxes sending out swag kits to influencers and affiliate partners to thank them for their content and of course giving a useful gift that will subsequently promote their brand when the recipient uses or wears their promotional items.
Key Takeaways!
Personal Touch: Decorative packaging creates a more personal gift experience
Sturdy Lift-Top Box: Feels like you're opening a gift, not a bulk package.
Custom Branded Sticker: Make an impression the moment the gift arrives.
Decorative Packing Paper: Gives your gift a personal touch. Choose blue or gray.
Message Card: Choose from our templates, or provide artwork and we'll print it for you.
* FYI You can add third-party inserts, too! (Restrictions apply.) Box and paper are both made with recycled material - and both can be recycled too.