Shop Cyber Monday for Gifts for Coworkers
Cyber Monday and Cyber Week are known for selling a lot of electronics and other tech products as a B2C holiday. However, Cyber Monday and Cyber Week are also a great chance for businesses to buy some promotional products that double as cool desk accessories to boost team morale. Check out some of our top last-minute gift ideas for your coworkers and staff.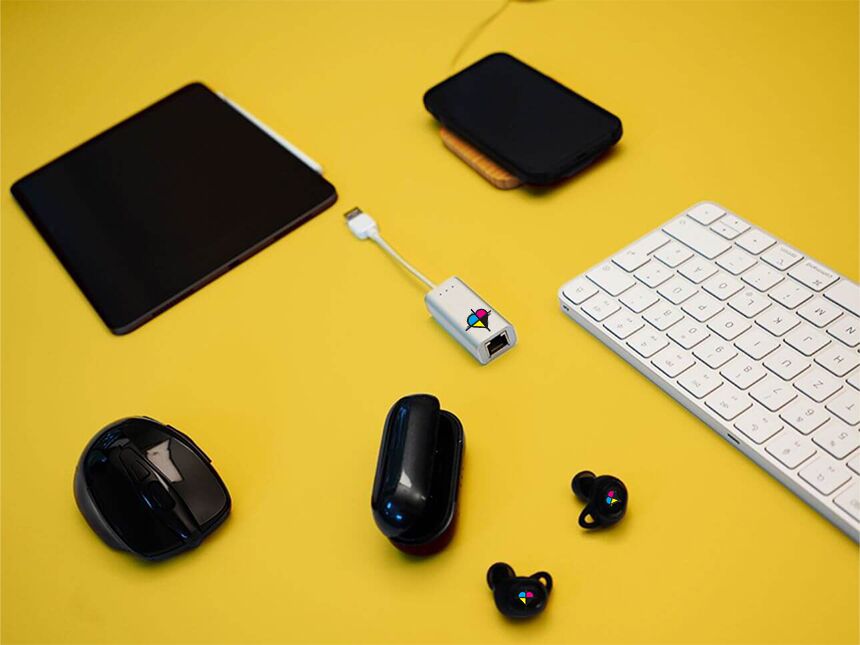 Cyber Monday is the Monday after the popular Black Friday shopping day. This Monday also starts off the rest of the Cyber Week event. Cyber Monday and Cyber Week are when various companies offer special discounts to encourage customers to order products online versus in-store. While there can be various discounts throughout Cyber Week, one of the big draws to Cyber Monday is due to the fact that it is one of the last days to order your Christmas gifts for them to arrive in time.
With that being said, here are some of our top picks for products you should consider ordering during this busy shopping period. Browse our selection of products ahead of time so that you can order during Cyber Week to ensure your promotional items can be shipped in time. This is our full list of Cyber Monday promotional items. We generally recommend that any last-minute gifts should be finished around this time so that you are more likely to get your gifts before the end of the year.
Practical Gifts
Practical gifts are great for everyone - for those who give them and those who receive them. Make the most of your money and give a gift that keeps giving throughout the year. These types of gifts don't need to be boring either. There are plenty of fun and unique practical gifts out there. Some of the more traditional end-of-the-year gifts include promotional notebooks or branded pens. There are even some promotional notebooks with pens that already come as a gift set. While some might consider them to be impersonal or boring, notebooks and pens can be customized with each employee's name to give a personal touch to them. Or if your company is more tech oriented, you can opt for promotional stylus pens to hand out. Plus, they are so practical for everyday use. Bulk order these promotional desk items to keep around the office and bring joy to those who will use them every day.
Our Top Picks for Practical Gifts
Titus 5000 mAh Wireless Charging Journal - From $37.82
Rocketbook Executive Flip Notebook Set - From $34.37
Luna Roller Ball Stylus - From $7.65
Cool Desk Accessories
Office desks can make everyone feel like they are just worker bees and nothing more. However, with branded promotional items, your coworkers and staff can feel more at home while being at work. Consider ordering some of these cool desk accessories during Cyber Week to reward your employees for a great year. Promotional wireless chargers are perfect for the office. These branded power banks can be used by everyone and they are so convenient that you can stock up to keep them in every room and on every desk. One way to make your desks more personal is to hand out promotional picture frames, maybe even with a picture of a fun memory already inside from a work event or team building. Custom-printed PC mouses are also another great way to bring some coolness to everyone's desk. These types of electronics and other tech products are generally sought after during the Cyber Monday shopping period.
Our Top Picks for Cool Desk Accessories
Glimpse Photo Frame with Wireless Charging Pad - From $25.66
Bamboo Photo Frame - From $10.20
Wizard Wireless Mouse with Coating - From $20.42
Home Office Gifts
Many people are still working from home, so what better way to bring some joy to their home office setups. The Cyber Monday picks will be great last-minute gifts to hand out to all your employees and coworkers who are working remotely. The great thing about promotional products is that they can be customized for every time of location and office. Gift your employees a better working environment and have them set the mood with a promotional candle to light in their office. Cyber Week is great for any last-minute employee Christmas gifts, so you should consider bulk-ordering some branded headphones or promotional speakers for your remote employees. Home offices can be difficult to manage because your staff wants to keep a nice work-life balance. A great solution to that can be a promotional desk organizer to keep the work stuff organized without spilling into their personal life.
Our Top Picks for Home Office Gifts
Ocean Mist and Moss 11 oz Glass Jar Candle - From $21.88
Light Up Logo Bluetooth Speaker - From $10.93
4 Piece Faux Marble Desktop Set - From $7.58
Office Gifts
On the other hand, if most of your employees and coworkers come into the office, promotional office products are perfect. These types of employee gifts are great to hand out because these products already function so perfectly for the office setting. Promotional mugs can be bulk ordered and handed out to all your coworkers or kept around in the office kitchen. Mugs are not the only item though, as other branded drinkware, such as custom-printed water bottles and customized tumblers are great for the office. Cyber Week is also a chance for you to buy some last-minute employee gifts like personalized padfolios. These custom-printed padfolios help to keep everyone in the office organized and professional. For those employees and coworkers who commute every day, you can consider ordering some promotional laptop bags or other types of promotional messenger bags. These types of employee Christmas gifts are really appreciated and go a long way.
Our Top Picks for Office Gifts
Hydro Flask® Coffee Mug 12oz - From $28.50
Manchester Zippered Padfolio - From $17.50
elleven™ TSA 17" Computer Backpack - From $50.60
Gifts to Boost Team Morale
One of the fun things about Cyber Monday and Cyber Week is that you can find some pretty cool and unique gifts to hand out, like promotional drones. If you are thinking about ordering some company swag items to hand out to your team, consider ordering some of these tech items and electronics, like custom virtual reality headsets to help boost your team morale. The end of the year can be a time to reflect and relax, however, it can also be a time when morale might dip. Start the new year off right and order some of these business merch items to boost your team morale. Host a team event where you play promotional games to help your team bond.
Our Top Picks for Gifts to Boost Team Morale
Lifestyle 7-in-1 Desktop Game Set - From $33.77
Virtual Reality Headset with Headphones - From $12.03
Mini Drone with Full Color Wrap - From $32.93
Hopefully, this list of products gave you some ideas for what types of promotional gifts you would like to hand out this year. You and your coworkers have worked hard this year. Be sure to show your appreciation for them with a thank you gift. Bookmark these ideas and come back during the Cyber Monday and Cyber Week shopping period for special discounts.