Sustainable & Eco-Friendly Corporate Gift Ideas
The holiday season does not need to be wasteful. Consider ordering some eco-friendly corporate gifts this year for your staff. See our list of the best sustainable gifts for this Christmas season. You can also learn what steps you and your company can take to become more sustainable for the future. Celebrate your staff this year with sustainable corporate gifts printed with your company logo or business design.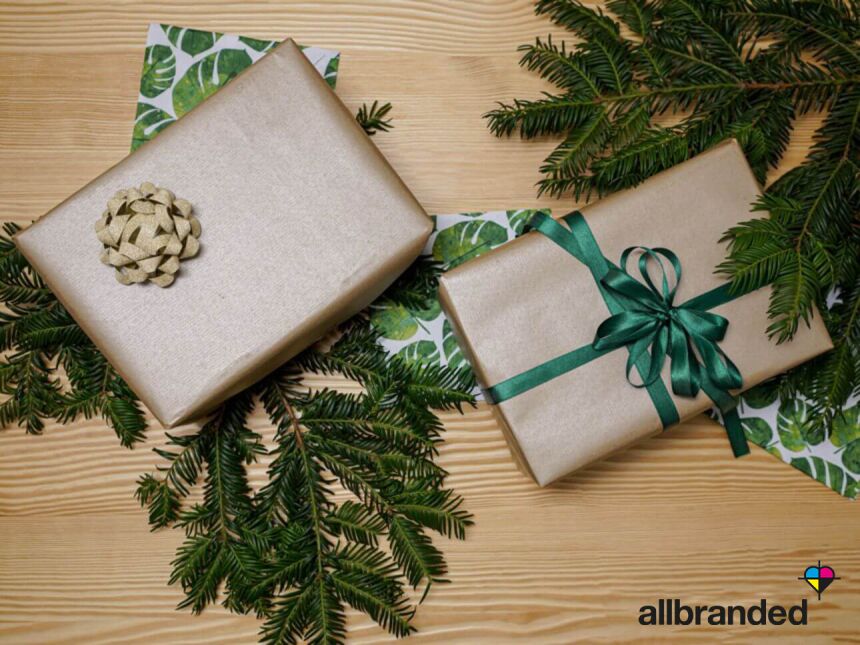 Christmas and the holiday season is rapidly approaching meaning it is the perfect time to purchase some employee Christmas gifts for your staff. However, there are some alternatives to the more traditional approach to promotional products as corporate gifts. Consider choosing some eco-friendly Christmas gifts for your staff this year. You will still have the option to imprint your company logo on these products, but they are longer-lasting and better for the environment. There are sustainable products for everyone and you don't need to sacrifice your budget to do so either. Find the best eco-friendly gifts for your clients, customers, partners, and employees at affordable prices. Read more to learn how!
Why Eco-Friendly Christmas Gifts
When thinking about sustainability, you might think of products that don't make sense as a promotional product let alone a holiday gift. However, eco products have come a long way since then. We have rounded up some of the best sustainable corporate gifts that people will actually want and will use throughout the years. Plus, sustainability doesn't need to only be for private consumers. Promote your brand or company as a climate-conscious one and hand out some eco-friendly gifts to your employees this year.
What Make a Sustainable Employee Gift
There are various ways you can incorporate sustainability into your business and your employees Christmas gifts this year. When considering these types of gifts, look for this criteria to ensure you are being environmentally friendly.
Recycled Plastic
When looking for a sustainable promotional product, it is important to consider the material. Single-use plastic is harmful to the environment and plastic in general, so those types should generally be avoided. However, allbranded has a wide selection of products made from recycled plastics, meaning these single-use plastic items were repurposed into new plastic. Many of our promotional eco-friendly tote bags are made from recycled plastic. Be sure to read the materials to make sure you are getting recycled plastic.
Bamboo
One of the most quintessential sustainable materials is bamboo. Bamboo is the fastest growing wood, meaning it can quickly be grown again and replenished. Bamboo also can be used for a variety of products, from promotional picture frames to even promotional bamboo pens. These products last longer than other single-use products. Not to mention, they also have a nice look, a more natural look, to them compared to most standard plastic products.
Metal
Metal is also another great sustainable alternative to plastic. There are a wide range of products made from stainless steel, aluminum, copper, and other various materials. One of the easiest ways you and your company can become more eco-friendly is to ditch the single-use cups and mugs. Instead, you can hand out new promotional tumblers or custom-printed mugs. Whether you use them to stock up the office kitchen or hand them out to employees who travel to and from work, it is the little things that really add up to a larger impact.
Glass
Another great option is glass. Glass, while considered breakable and highly fragile, can actually be a great alternative. Glasses with your company logo would look great as a new addition to the office kitchen, meeting rooms or desks. Encourage your team and employees to stay hydrated throughout the day with some of our promotional water bottles made from glass.
Cotton
In terms of fabrics, cotton is another great sustainable option. To be even more environmentally conscious, look for products made from 100% cotton, organic or not. Not only can you avoid plastic bags, but you can also increase your brand awareness. Custom-printed cotton bags are so useful, not only for work, but also for everyday life. Your staff will be reaching for these bags all year round for all types of occasions - whether that is going to the office, the gym or even shopping. Add your logo and promote your brand as a more conscious brand. You can find even more of our branded eco-friendly bags here made from other sustainable materials.
Cork
Cork is a product that is also considered to be a widely accepted sustainable product, like bamboo. It is very versatile and it can be used for many different products, like shoes, bags, purses, promotional notebooks and more. If you are having any type of holiday party, you can bulk order some branded picture frames made from cork to hand out as goodies at the end of the night. Being eco-friendly does not mean you need to sacrifice your standards for a good time.
Our Picks for the Best Sustainable Gifts
With all that being said, here are some of our top picks for the best promotional eco-friendly gifts you can find to hand out to your employees, staff, volunteers, clients and more this holiday season. Be sure to check out our sustainable corporate gifts section to find even more products updated daily.