Promotional Tote Bags
How do I put a logo on a tote bag?
There are various options you can choose depending on the bag and material. Choose from embroidery, digital print transfer, screen printing and embossing.
Are branded tote bags still trending?
Yes! You can add your company logo to the front of your tote. Then hand out these promotional items to hand out as a giveaway at a trade show, convention, conference or wherever!
Are reusable bags popular?
Reusable bags are becoming more popular. Companies are focusing on being eco-friendly. Therefore, there are many options for eco-friendly tote bags that will not disappoint.
Are sustainable bags worth it?
Yes. Sustainable tote bags tend to have a lot of room for storage. They also usually have sturdy, reinforced handles to allow you to carry heavier items.
Can I bulk order tote bags?
Many of these totes offer a large minimum quantity. This means you can order and hand it out in bulk. Get these bags for wholesale prices.
COMMON TYPES OF BRANDED TOTE BAGS FOR PROMOTIONAL MARKETING
What are some of the most popular types of bags you can use to imprint your logo? Not sure which custom tote bags to order? Check these out and see for yourself. However you want to use these promotional tote bags with logos, you can!
Canvas Tote Bags - Imprinted tote bags made from canvas, a long-lasting material, promotes long-term branding. Reusable tote bags are good for the environment. Consider choosing custom canvas or cotton canvas totes.


Cotton Canvas Bags- Similar to the canvas totes, these cotton tote bags are great promotional products. They function as shopping bags, commuting bags, gym bags or even grocery totes. Check for the bags that are 100% cotton.


Tote Bags - Perfectly insulates food or drinks at the grocery store as well as outdoor gatherings. Keep an eye out for non-woven tote (woven polypropylene) bags as these are great sustainable alternatives to plastic bags. Watch out for the boat tote styling tote to use as gift bags.


Clear Totes - Make it easy for them to see what they stored by choosing to imprint a clear tote.


Drawstring Bags - Your target audience will bring these drawstring bags with them wherever they go. Bags made from water resistance materials make it easier.


Eco-Friendly Bags - Made from sustainable materials and are friendly to the planet. Some promotional bags are made from recycled materials, like paper bags or jute bags.


Woven Totes - Many of these custom totes are made from recycled materials, including cotton or plastic.


Shopping Tote Bags - These are large bags, often with a reinforced bottom to allow you to carry heavy items. Use these totes for grocery shopping. Get more brand recognition with these shopper totes. Grocery tote bags are perfect for everyday branding.


Beach Bags - Beach bags are great to hand out. These bags hold a lot of stuff in them, like water bottles or towels.
CONSIDER PROMOTIONAL TOTE BAGS FOR YOUR NEXT GIVEAWAY
Logo tote bags are a budget friendly, high visibility marketing tool for your brand. They are a highly useful promotional bag that can hold a good amount of items. Plus, they show customer appreciation, and advertising daily around town. This can include places like work, school, and beyond - perhaps even at farmers markets. The marketing exposure is endless when your target audience is serving as brand ambassadors for your great company with these bags.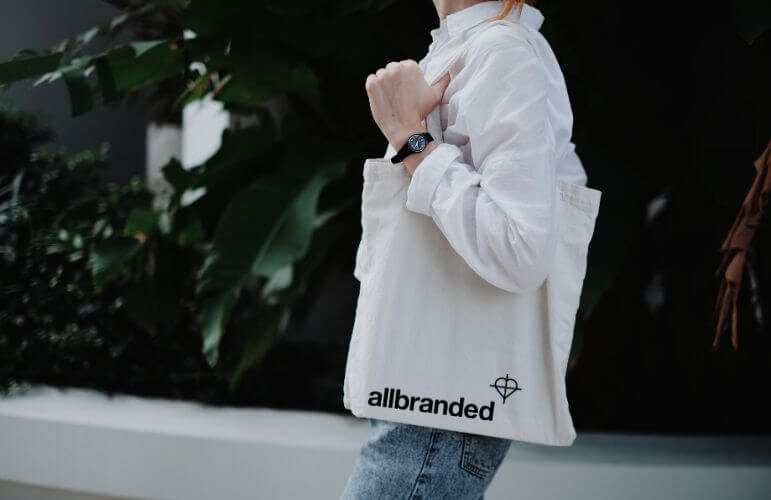 Functional Tote Bags
Imprinted tote bags have many styles, materials and uses. These items are perfect for businesses, companies and organizations because an imprinted bag draws attention to your brand. These types of totes are most frequently used by customers, employees, retail, and special event promotion.
Like a branded water bottle, your clients, staff and partners will be reaching for these shopper tote bags every day. When you imprint your logo onto these promotional bags, they work the same as more traditional business cards. However, they last much longer and these bags are more practical for everyday use.
CHOOSE SUSTAINABLE IMPRINTED TOTE BAGS
These bags are made from sustainable materials like paper, organic cotton, canvas and jute. Make a statement with eco-friendly tote bags and be part of a better tomorrow with custom-branded shopping totes. Click here for more sustainable products to brand and add to your promotional eco-friendly tote bag.
CUSTOM-PRINTED TOTE BAG WITH LOGO AS COMPANY SWAG
Let your imagination run wild when it comes to printing promotional tote bags. As far as your custom imprint goes, you can add whatever you would like. You can choose an imprint that's one color, full color, or even embroidered. Your logo will be on display, so pick the bag that speaks best to your branding style and target audience.
More
Less