Custom-Printed Promotional Bags with Logo
Promotional bags with your company logo are a highly useful company swag item for the hustle and bustle of everyday life. Custom business logo bags are a popular giveaway at any event or occasion. Business professionals, customers, employees, sports teams, and students love custom-printed bags to use for an array of purposes. The more useful a promotional item is the more powerful return of investment your brand will see. Promotional bags gain real marketing value! Businesses looking for promotional paper bags or custom-imprinted bag options need to look no further as we offer a great selection of eco-friendly promotional bags for all your branding needs. If you need your order quickly, be sure to check out our full list of express promotional bags.
PRINTED PROMOTIONAL BAGS ARE PERFECT FOR COMPANY SWAG
One of the most popular types of promotional products is the classic promotional bag. Bulk order some of these custom-printed bags with your business logo on them.
Ideal for All Business Events
What makes these cotton bags with logo so great is that these bags can be used for every type of business event. Bulk order some to hand out at trade shows, conventions or other business events. Consider keeping the bags within your company. Hand out some of these imprinted bags as employee gift bags or part of a welcome kit for new employees.
You don't need to keep it to professional settings, you can also order some of these bags for your university or college needs. Customers alike love branded bags to use for an array of purposes, which is what makes these items so popular. The more practical a promotional item can be in everyday life, the more powerful your brand recognition will become. Companies, businesses and other types of organizations looking for awesome and unique company swag products, you don't need to look no further than our online shop.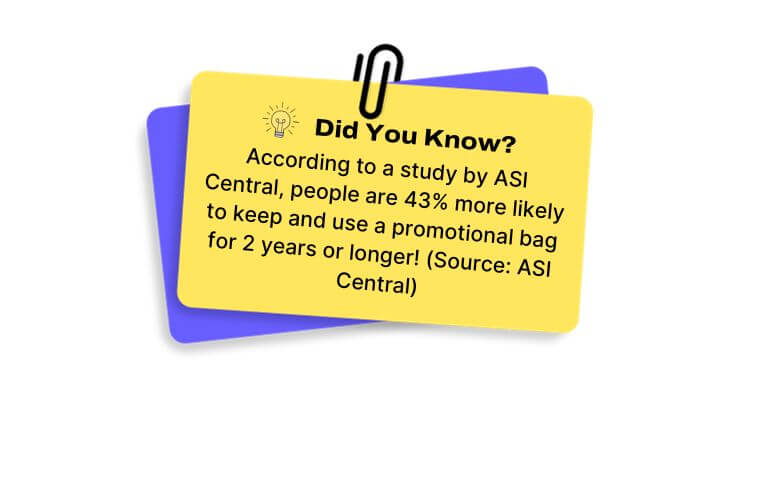 TYPES OF BRANDED PROMOTIONAL BAGS FOR YOUR EVENT
Here are some of the possible reusable custom tote bags we have for you to choose from. They come in a wide variety of colors, many different sizes, different uses and of course, for every occasion. We also offer a variety of materials like canvas bags and custom cotton tote bags to make unique bags.
Tote Bags
Messenger Bags & Briefcases
Backpacks & Drawstring Bags
Lunch Bags & Coolers
Laptop Bags
Duffel & Gym Bags
Luggage & Travel
Eco-Friendly Bags
Paper Bags
Plastic Bags
Toiletry Bags
Canvas Tote Bags
Whether you need a small bag like a fanny pack for a larger bag for everyday shopping, you can find what you need here. Choose from various materials, including cotton canvas totes or custom canvas totes made from jute.
PROMOTIONAL BAGS WITH LOGO FOR THE OFFICE AND SCHOOL
Custom-printed bags for your employees or students are a fantastic way to get your brand's logo in front of a wide audience. Find options for promotional tote bags or custom drawstring bags.
Employees, clients, partners and stakeholders will appreciate backpacks with your company logo. Students and staff can get a lot of use out of branded tote bags with your logo or drawstring backpacks to carry books and paperwork from class to class.
Printed totes and backpacks with your school's logo will encourage a sense of community on campus and around town. Shop during the back to school period to make sure your promotional products arrive in time for the students and faculty.
GO GREEN WITH ECO-FRIENDLY PROMOTIONAL BAGS
Businesses like grocery stores, cafes, and general stores can go green and harness the power of eco-friendly promotional bags. Consumers demand ethical, sustainable, and green products, so why not complete the sale with a custom-printed shopping bag?
What makes a product eco-friendly?
To make sure you are buying the right products, there are a few things to consider. Make sure the bag is made from durable materials like cotton, jute or canvas. The ability to reuse is also an important factor. Sturdy and practical products are longer-lasting than single-use bags.
Imprinted reusable bags help to build an eco-friendly brand image. Increase your exposure to new customers and prospects around town.
Check out our collection here for more of our sustainable products, including bags, food storage, drinkware and pens. Eco-friendly customers will notice your green bags, like our jute totes, when they're out. They'll value your care for the environment and the world.
CORPORATE SPORT AND TRAVEL BAGS TAKE YOUR BRAND TO NEW HEIGHTS
Sports bags and travel bags branded with your logo are a sure way to gain global exposure since these items are seen on a daily basis. Promotional travel bags like duffel bags or branded canvas tote bags with your logo and custom luggage are great for business travel. The sky's the limit with our selection of custom logo bags!
More
Less