Free $100 or $150 Amazon Gift Card

Spend more, get more FREE! ✨ Get a free Amazon gift card for your company with purchase. Spend $1,000, get $100 free or spend $1,500, get $150 free

Valid for online orders with code:

AMAZING

Code sent via email
Free gift with purchase now - 12/15

SHOP POPULAR PRODUCTS

Say THANK YOU with Employee Gifts 💛

Say thank you with employee gifts! Browse our selection of unique gifts.

Birthdays, anniversaries, onboarding boxes
High-quality products
Specifically designed

Discover now

USA Made: Where Stars and Stripes Collide!

From sea to shining shopping cart! 🛒 Get your Made in USA promotional products here. ❤️ 🤍 💙

Ideal for large company & outdoor events
High-quality products Made in USA
Support the US economy by ordering swag

SHOP USA MADE NOW

Chill Out with Cool Swag ❄️

Shop our winter wonderland of promotional gifts! Choose from our large selection of winter promotional items for the cooler months. ⛄

Discover blankets, scarves, jackets & more
Add your logo to every product
Great as corporate gifts

SHOP NOW

Green Vibes, Green Swag 🌱

Do something good for your brand AND the planet. 🌎 Consider ordering eco-friendly promotional products printed with your logo! 💚

Easy sustainable swaps
Reusable products for long-lasting brand awareness
Uses eco-friendly materials

SHOP ECO-FRIENDLY PRODUCTS
Companies That Have Worked With Us
ALLBRANDED: COMPANY SWAG & BRANDED PROMOTIONAL PRODUCTS IN USA
Welcome to allbranded.com - your go-to place for all things promotional products, including corporate and company gifts along with other branded merchandise. We are experts in our field in order to process your order and to help you create the perfect branded promotional products for your brand. We work with all types of clients, including large and small businesses, corporations, and companies but everyone is welcome here. Whether you work at a restaurant, a school or university or even at your own start up, you can find a wide range of branded products you need to build up your brand. With a wide range of items, you are sure to find the perfect thing for your next marketing campaign. Choose from a wide selection of logo-branded company merch and promotional gifts USA. At allbranded - You Name It. We Brand It.
THE POWER OF MARKETING PRODUCTS
Are you looking for a way to create better brand awareness through other means than social media or other online channels? Have your clients connect to your brand on a deeper and more personal and emotional level by distributing custom promotional products. Learn how you can create more brand awareness and loyalty with a wider variety of means.
allbranded Case Study with Industry Insights & Research
In order to learn more about the branded corporate merchandise world, we conducted this survey and case study to learn and analyze what you, our customers, like to see in promotional products and what are some of the most common uses for these products. For example, seasonal events like Christmas and trade shows are some of the most popular times where branded corporate merchandise is used. With your help, we are able to provide better products and services that match your company's ideals. Industry research and insight is important to keep up with the trends and to ensure you as a consumer are having your needs met. Read more about it in our allbranded case study.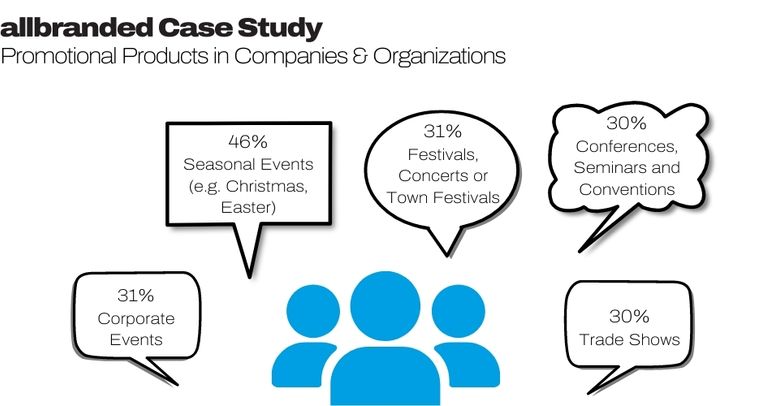 Our promotional gifts and products are great tools to help to promote your business, develop brand awareness and loyalty, and ensure overall employee satisfaction. 80% of companies already use this type of offline marketing strategy to push their brand and services even further.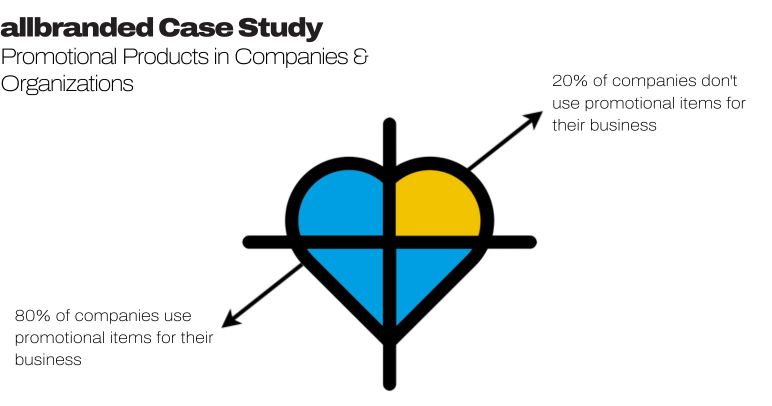 From classic items like branded drinkware to more unique or specific products like power banks, wireless charging and other tech gadgets, we offer a large variety of options for all types of occasions and budgets. Let us help you build up your brand and company through our expertise in the promotional marketing world. Choose from cheap promotional products under $1 to high-end, luxury promotional products. High-end swag is ideal as corporate holiday gifts. Don't be part of the 20% of companies who don't take advantage of this opportunity. Join the company swag revolution.
How does allbranded work?
Our online store is easy, fast, and convenient for you to shop, where you are sitting at a desk or using a mobile device on the go. Simply search for the product you are looking for, whether it is a custom shirt, a branded hoodie or a custom mug, and add it to your cart. Then add your company logo when you order to streamline the process, making it much easier for you to order in one go. We brand all types of marketing products for you to hand out to your target audience. We can help you every step of the way to create a marketing product that is right for you and your vision. We also work with you on any special production requests you might have, including large bulk orders, pricing or even products themselves.
WHY PROMOTIONAL PRODUCTS & CORPORATE GIFTS?
Corporate gifting is used to close the gap and build a bridge between a firm or company and its employees and customers, through physical gifts such as jackets, calendars or promotional apparel. It's a way of showing your appreciation for their hard work throughout the year or their loyalty as a client.
What makes great company swag?
When thinking about how to spend your marketing budget, you want to make sure you are getting the most out of your dollar. We came up with these four rules to think about when ordering your corporate swag to ensure you not only find the right product, but also make the biggest impact doing so.
Durability & Sustainability - Since these products will be kept for a long time, you want to make sure that what you purchase is long-lasting and therefore, a high-quality promotional product. Consider looking for stainless steel products, or even eco-friendly and sustainable products made from bamboo or glass.
Visibility - Branded marketing works best when you can see the slogan, logo or design every day. When choosing your executive gifts, think about what will be seen the most. Some typical things include custom tumblers which can be used to and from the office or even branded umbrellas that would be perfect for rainy climates. Products seen on a daily basis help for customer retention and loyalty.
Practicality - Handing out things like sunglasses or even custom keychains at trade shows and other business events intertwines your brand in your target audience's everyday life. Since these last longer than business cards or fliers, you will remain on their mind for much longer.
Affordability - In our online shop you are sure to find something that fits into your budget. If you want to bulk order something for a business conference, you can order something smaller and more practical for the event, like promotional notebooks, writing pads, or custom flash drives. If you are thinking about employee gift ideas, you can order big ticket items in smaller quantities, like branded speakers or padfolios with your logo. High-end corporate swag can be affordable if you need low minimum promotional items.
OUR FAVORITE PRODUCTS
While you might need different products for different occasions, you will find that these are tried and true. Not only are these items great in terms of quality for the price, but they are also practical for everyday use. Here are our top picks for our favorite items and the top promotional products as purchased by customers like you!
WATER BOTTLES - Firstly, branded water bottles seem to be everyone's favorite. You have the option to choose a water bottle with or without insulation, for exercising or every day or even with or without a straw. Plus, thanks to their practicality and environmentally friendly aspect, water bottles are our absolute favorite product.
LANYARDS - Another popular item is the custom lanyard. Affordable as well as practical, lanyards are part of this year's top products for both clients and employees. Lanyards are practical for in office use, but they are also great to bring along to trade shows and other business events.
BACKPACKS - Custom backpacks are also another favorite because of their diverse usage and practicality. Choose from hundreds of styles that fit your belongings, your laptop and much more. Whether you like it dark or colorful, sleek or playful, here you can find it all just waiting for your brand logo. Backpacks are great to use when you commute to the office or for employees who frequently travel for business.
PENS & PENCILS - Another popular company swag item is a promotional pen. Imprint your pen with your company logo to keep around the office, hand out at business conferences or bring them with you when you work with other clients. If your company works more online and in the cloud, you can also purchase custom stylus pens instead. These products are ideal for bulk orders.
ECO-FRIENDLY COMPANY SWAG IS POSSIBLE
While you might be thinking that high-end company swag cannot possibly be eco-friendly or sustainable, you will be pleasantly surprised. Many of our products are made from environmentally friendly materials, such as bamboo, recycled plastic, wheat straw, glass, metal and more. These eco-friendly products give a nice, sleek modern look to them and they would make a great addition to any promotional marketing campaign. We carry many products like eco-friendly bags or even eco-friendly pens. We have a wide range of products that are great for the environment and your brand. Show off how your company values sustainable products and brand some of our eco-friendly and sustainable products.
RUSH PROMOTIONAL PRODUCTS
While all of our products are great options for your awesome company swag, there are some that are special. These types of products are great for when you need a quick turn around. Rush products are specific products that have a 48-hour production time. That means, you can choose your item, add your custom logo to it, and have it produced within 48 hours. Rush is a great option for when you need a lot of unique business merch within a short amount of time.
PROMOTIONAL PRODUCTS FOR EVERY SEASON
If you are in charge of ordering the business merchandise for your company, you might not realize, but there are some seasonal promotional products that you should consider. Regardless of which season you are shopping for, we have some ideas of how you can make the most of your year by ordering the right type of company merchandise for the respective season.
❄️ Winter ❄️
The even colder winter months are perfect for cozy and warm promotional products. Whether you are in marketing or you work in HR, you should consider ordering some of our branded blankets, or more specially, our branded Sherpa blankets. Whether you have some employees who work from home or if everyone is back in the office, you can order enough to hand one out to your target audience. Our online shop also offers a lot of winter accessories, like scarves and mittens, for you to hand out as promotional corporate gifts. Or if you are planning a winter getaway for your team, consider getting some beanies or even some tumblers to hand out to everyone.
☔ Spring ☔
When the snow starts to melt and the flowers start to bloom, that is when you know spring is here. To show your team how much they mean to you as a company, now is the time to send them some grow kits to keep on their desks. For a business event, you should consider organizing a company picnic, with picnic blankets and coolers for the event and everyone to take home. For rainier climates, spring is the time to consider umbrellas for everyone.
☀️ Summer ☀️
Nothing is better than when the sun fully comes out for the summer months. That is the perfect time for companies to celebrate anniversaries or the nice weather. While everyone is standing outside soaking up the sun, you should also hand out some goodies, including promotional sunglasses for everyone or promotional hats & caps. Make sure your entire team stays hydrated in the heat with some promotional water bottles.
☕ Fall ☕
When the cooler months and the fall season approach, it means all your employees want to do is get comfortable around the office or their home office. Promotional home products are perfect for cozy remote work. If you were looking for a time to upgrade your company uniform or just hand out some promotional apparel, now is the time to invest in some vests or jackets for everyone on your team. For all your coffee and tea lovers, consider upgrading your office branded drinkware and bulk order some imprinted cups, mugs or tumblers.
UPCOMING EVENTS
Are you looking for something special for an upcoming event, holiday or even seasonally themed items and you are out of swag ideas? You should browse our Inspiration page, as we have categorized the most popular products for all types of occasions. Order your employees top promotional items branded with your company logo to celebrate these special occasions and events throughout the year. Make your company promotional product budget last longer by highlighting your company during these peak events.
1. Trade Shows
Trade shows are some of the best times to hand out promotional materials to potential clients, customers and partners. This is a special event where businesses of the same industry come together to display, demonstrate and discuss their latest products and other services. Since there will be many brands all in one place and there will be many people there, it is important to stand out from the crowd and make people remember who you are long after the event. Consider browsing through our complete list of essential trade show promotional items to hand out this year.
2. Career Fairs
Much like trade shows, career fairs are a great place to meet people and other potential companies. However, this is targeted more for recruiting new people to your company, brand or business. You want to make a good impression with potential employees and future recruits. For this reason, we have compiled a list of the most important career fair giveaways you can use to create more brand awareness. Keep your company on the top of these peoples' minds long after the initial fair with awesome company swag items like promotional padfolios.
3. Black Friday and Cyber Monday Deals
November means Black Friday month! See what we have in store for the biggest shopping period of the year with our full list of Black Friday promotional products. This will be one of the last chances you will have to order some promotional gifts, like Bluetooth speakers, before the deadline. During this time, you can expect to find some special Black Friday sales and deals - maybe even a Black Friday promo code or two.
4. Christmas & Employee Gifts
Now is the time to start looking for corporate Christmas gifts. In order to avoid the rush, the best time to order holiday gift sets for employees is the end of summer through the beginning of fall, so about August - October. This way, you can also ensure that your Christmas gifts for employees, clients and customers arrive in time. Whether you are going to hand these branded gift boxes out during your office party or as an end of the year thank you gift, you should consider ordering your high-end corporate gifts early enough.
More
Less
Subscription is currently not possible due to an internal problem. Please try again later.
Subscribe to our Newsletter**
Coupons & Sales
News & Events
Exclusive VIP Access
**By clicking Subscribe, you agree to receiving newsletters from allbranded North America Inc. In order to personalize advertisement and special offers of the newsletter according to your preferences, allbranded North America Inc. does also process the usage behaviour of our newsletter subscribers which results from reception of the personalized newsletter and the selected content. You can revoke this consent at any time by clicking on the "Unsubscribe" link located at the bottom of each newsletter.
* Required field
follow us on