Order Promotional Tech Gifts on Cyber Monday
Cyber Week is here and we have all the discounts you could possibly want. Get great prices on top tech gifts for your employees, clients, partners, and more. Read more to find out about our Cyber Week coupon and what featured products we have for promotional tech gifts.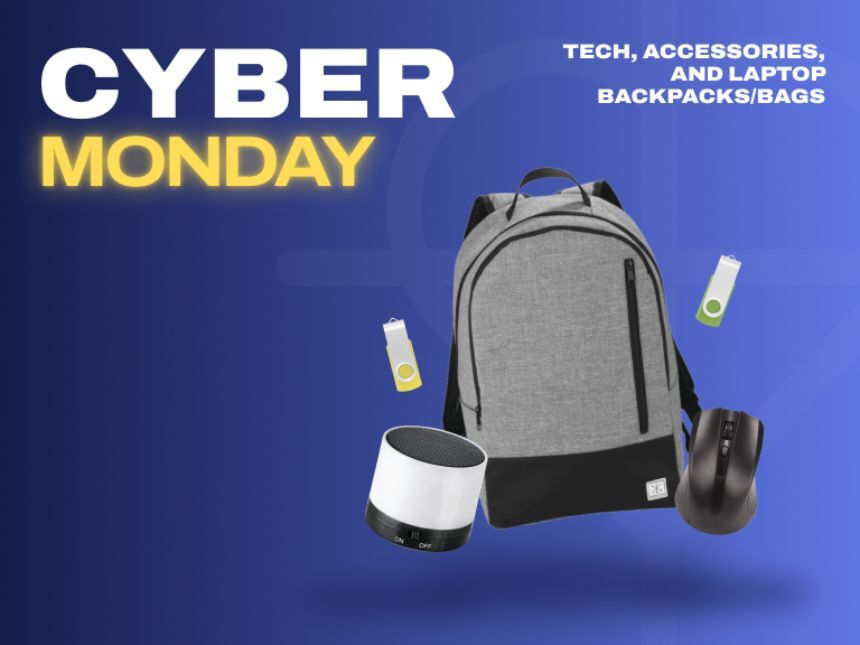 Just because Black Friday is over does not mean the savings stop there. You can enjoy our Cyber Monday coupon for the whole week. That means extra savings on all your favorite tech and tech accessories. Are you thinking about ordering some last-minute employee Christmas gifts? Then you should check out our express products to ensure you get your products delivered on time. Read on to learn more about our top products and staff pick's for the best tech products this season. Or you can simply check out our list of Black Friday & Cyber Monday products to get an idea of what types of items you can find at our online store.
Computer Accessories
Promotional computer accessories can mean a lot of different things. However, when it comes to allbranded, you know it means quality. Consider bulk ordering some of our promotional flash drives to breathe some new life into your office. We also offer a wide range of wireless custom-printed PC mice. These types of promotional products are great to order, add your company logo to them and then hand them out to all your staff. These types of accessories are so practical for everyday use. Plus, if you hand them out as employee gifts or in an onboarding box for new hires, you can create a sense of belonging and pride for your employees.
Gadgets
Are you someone who likes to listen to music while working? Or do most of your employees or coworkers enjoy listening to music too? Then you should check out our full list of promotional speakers and custom-printed headphones. These types of promotional gadgets can be holiday employee gifts or just appreciation gifts. Create some memorable and unique swag items when you order some branded virtual reality headsets and gear. You cannot go wrong with any of these products as they are practical and will be used frequently. Whether you order some extras to keep around the break room or meeting rooms, you can expect hours of fun.
Mobile Accessories
Of all the possible promo items out there, one of the most popular categories is mobile accessories. We have a wide range of products, ranging from charging cables (both with cables and wireless charging options) to mobile cases. These types of promotional accessories are great because they will be used every day by everyone. For example, branded power banks are great for any employee, client, or partner, who travels for work or is just frequently on the go. Bulk order some new company swag and add your company logo to it for even more brand awareness.
Laptop Backpacks & Laptop Bags
Custom-branded laptop bags are essential for any company that has a hybrid working model. If you work partially from home and partially in the office, any type of laptop backpack is a must. These types of bags are essential for the professional setting because they allow employees to carry all their daily equipment to and from the office. You will have a happy workforce and work environment when you upgrade your company swag to this awesome and practical business bag.
Which product tickles your fancy? Check out some staff picks we think you and your company will like the most.