Top 10 Do's & Don'ts of Holiday Corporate Gift Giving
Discover how you can navigate the gift giving procedure this year with these top 10 do's and don'ts. Learn more about the proper gift giving etiquette when handing out corporate Christmas gifts. We will help you navigate the business etiquette you will need when handing out gifts to your clients, employees, partners and more this holiday season.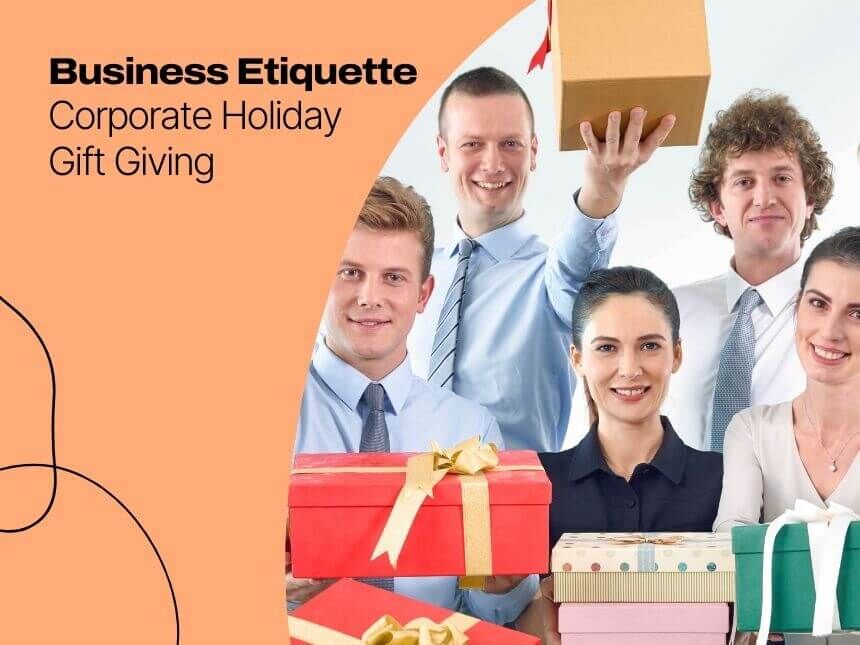 It is almost that time of year again. The weather is starting to get colder and you are getting ready for the holiday season. For many people, this can be a busy time of the year. While it can be nice to visit friends and family or even take off time from work, for many, it can be the peak season. Since this can be the busiest time for a company, it would make sense that brands follow business etiquette for holiday gift giving. Not only is this a fun way to bring light to this time of year, but you can also show your employees how much you appreciate them.
Corporate gift giving is a tradition followed by many companies. It might seem really easy to send out gifts to all your important clients, partners and employees, but there can be standards you should follow. We are here to break it down for you. Here are the top 10 trending do's and don'ts for holiday corporate gift giving.
1. Setting a Budget
Setting a budget around the holiday season can be tough. It is hard enough, but in many cases, you might be faced with a tight budget. Here are some ways we can help you avoid running into this problem.
Do: Set a budget and stick to it
Budgeting is crucial for people and companies alike. The important thing is, once you set the budget, make sure you stick to it.
Don't: Go over budget and overspend
Try to avoid overspending on extravagant gifts. While your recipients might appreciate it, your bosses might not be so happy. Maintain quality with high-end promotional products, but don't go overboard.
2. Choosing the right gift
In many cases, the end of the year is a time to celebrate the work you and your team have done. It is also the time to show your appreciation, so choosing the right gift is important. This can be the best part because in many cases it can be fun. However, there can be cases where it might all go wrong.
Do: Choose relevant and thoughtful gifts
Proper business etiquette would say you should choose a thoughtful and relevant gift for your target audience. Pick out a gift that is thoughtful and practical, like a branded laptop backpack. Or choose a gift that represents your company values, like eco-friendly swag.
Don't: Send sub-quality products
While it might make sense to order some cheap promotional products for your next trade show, as in many cases, you will need to order a lot at once, you should not take that approach with your corporate holiday gifts. If you are worried about going over budget, then you should consider some high-quality products with a low minimum order value.
3. Be considerate
Believe it or not, there are certain rules to giving out a gift. Here are ways you can avoid making a mistake to ensure everyone feels seen and appreciated with proper business etiquette when gift giving.
Do: Respect others
You might have an international team or have partners from around the world. When choosing an employee gift and even before, try to get some insight into their customs. This also goes for choosing gender neutral gifts. Be sure to also take things like ability and access also into consideration to ensure the holiday gift is appropriate and applicable for everyone.
Don't: Gifts don't replace raises or promotions
While gifts are nice to receive, they should not be used in place of a salary increase or an overall promotion. Proper business etiquette when gift giving is a separate thing from this and should not be done as a replacement.
4. Corporate gifts printed with your logo
As a company, you might want to take this time to do some brand awareness. However, if not done correctly, it can be an epic fail.
Do: Keep it tasteful
Since you want the gift to be about the person and less of a sales pitch, it is important to keep the logo tasteful. Consider choosing a smaller printing option. You can also choose to print the logo on the back of the product. Another option would be to choose a less bright color as to not have the logo stand out too much visually.
You can also consider printing the name of the person on the product along with the company logo. This will help to personalize the gift a bit, while still being a branding opportunity.
Don't: Poorly represent the brand or company
Since this is an important corporate gesture, you want to make sure you don't overdo it. In order to avoid poorly representing the brand, consider avoiding any last-minute alterations. Choose high-quality products with good branding options to avoid this pitfall.
5. When to send out the gifts
Timing can be crucial. In many cases, it can make all the difference in the world. Follow these tips to avoid seeming desperate or flooding your audience with branded promotional products.
Do: Stay top of mind
Whether you are handing out these gifts during the holiday season or after a business meeting. It is important to send it at the right time. For certain occasions, sending it around the special day would be beneficial.
Don't: Flood or overwhelm
Avoid being spammy with your corporate gift giving. You don't want to come across as if you are trying to sell them something. Since you will be sending out corporate Christmas gifts, it shouldn't come across as a traditional promotional giveaway item. With large ticket items or luxury corporate gifts, you don't want it to seem like you are buying someone's loyalty or work.
Apply Business Etiquette when Gift Giving
In summary, giving gifts can be fun, but there are many things to consider and other things to avoid. Hopefully you were able to learn some of the most popular and trending business etiquette rules when passing out corporate Christmas gifts this holiday season.
We can't go without saying that one of the biggest mistakes you can make would be waiting too long to send your corporate gifts! Consider ordering early or check out our 48 hour production products to have your gifts arrive sooner.