6 Impacts of Corporate Holiday Parties on Company Culture
Get some advice on how you can take your company holiday party to the next level this year. Follow our steps to ensure you not only have a fun time, but also make a lasting impact on your company culture. By doing so, you can see positive changes in the following year. But don't just take our word for it. Read on to leaven how you can boost your company culture through throwing an epic corporate holiday party.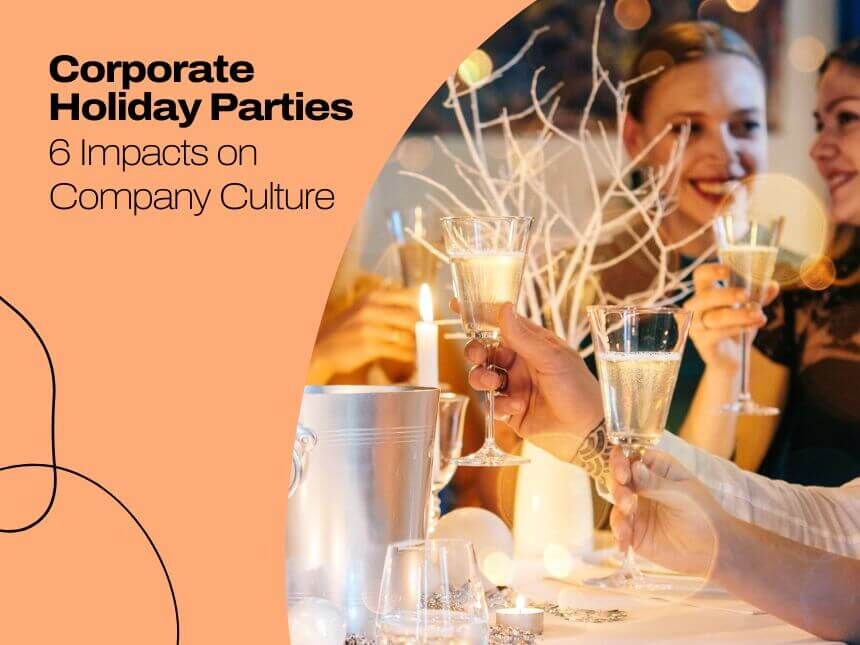 In a traditional sense, company holiday parties can often be stuffy and boring. Yours doesn't have to be. The end of the year is a time to celebrate and show your employees how much you appreciate them. Stop feeling like these corporate Christmas parties need to be an obligation. Start thinking about them as a way to boost your company culture. Bring your staff together during this time. See how you can make an impact on the company culture by throwing the perfect company Christmas party for everyone on the team.
Before we get into the details, let's take this time to define some of the key concepts in this post. What is company culture and what exactly is a corporate holiday party?
Company Culture - What is it?
To quickly summarize it, company culture is the shared values, behaviors, standards and attitudes that all come together to make up a specific work environment. This can also include the collective goals and practices that make up the work atmosphere at a company or business.
What are company culture examples?
A few specific examples of company culture are the dress code (is it business casual or very formal), the office setup, employee benefits, business hours, employee satisfaction and treatment to name a few.
What is a good company culture?
As mentioned above with the examples, a good company culture would have a combination of good values, expectations, workflows, goals, management and overall good ethics. Generally, if businesses are able to integrate this into their business model, employees and staff members are more likely to enjoy their time spent at work.
Corporate Holiday Parties - What are they?
Company holiday parties, corporate Christmas parties, end of the year events or even just an office party, these can often be classified as the same thing. To define them, these types of parties are basically parties often held at the end of the year. These parties and gatherings can be used to not only celebrate employees, their hard work and their success, but it is also a great way to boost the above mentioned company culture.
Positive Effects of Company Christmas Parties
Besides the immediate and obvious benefits of planning and hosting a corporate holiday party, there are some long term benefits too. Here are some of the less obvious benefits that can have a positive impact on your overall company culture beyond the fun night you have planned.
1. Sense of Belonging
A great way to build a good sense of company culture is to make sure your employees and colleagues feel like they are actually part of the team. This sense of belonging can go a long way in employee engagement as well. Rewarding your staff with a party to celebrate all the hard work and achievements they accomplished throughout the year can be truly beneficial. Connections at work are important for better communication, teamwork and management.
2. Celebrate Diversity
One of the best ways to foster a sense of belonging is to let people be themselves. That means, celebrating diversity within the workplace. One way to ensure this happens is to include your staff, employees or colleagues into the planning process. Include various games, food and drink and even entertainment from the various employee cultures, backgrounds and interests at the party. This will allow for a deeper connection and understanding of those you work with. Not only will these workers feel connected to others, but celebrating diversity allows for a deeper connection to build a fun and unique company culture.
3. Strengthen Relationships
By allowing your staff to relax for an evening, it can give them a chance to let loose. Without the pressure of work, your colleagues can begin to strengthen their relationships outside of the professional setting. A strong company culture means that employees feel free and happy to work with their other team members. Building and strengthening these types of relationships can have a positive long-term impact on your overall culture.
4. Increased Cross-Departmental Interaction
In many cases, not every team member will work directly with every other team member. This type of alienation can lead to miscommunication and other misunderstandings. By hosting a company holiday party, all team members can interact with each other.
If you want to increase the cross-department mingling, consider hosting some fun party games. These games can include things like costume contests, dance contests, treasure hunts, quizzes, trivia and more. Incorporate some fun holiday themed games to really bring the event all together.
5. Goal Alignment
While in most cases, the corporate holiday party should be a time to let everyone relax, this time can also be used to align goals. This can be done in various ways whether it is an overall company alignment or specific for each team. Creating reachable goals for individuals, teams, departments and the company leads to a better company culture. When everyone works together, it leads to better communication and overall engagement.
If you choose to do this at the party, make sure you keep it light and fun. It is a party after all. But this can be a great time to get the whole company together and set or just see the goals for the upcoming year.
6. Boosts Morale
At the end of the day, a boost in morale is something that should not be overlooked. Something as simple as the company celebrating the people who make it function is a great way to build a better company culture.
Creating fun games, meeting new people, relaxing and eating good food can all be great ways to increase the overall impact. However, since it is the holiday season, you can consider handing out some employee Christmas gifts to brighten up the place. This type of event giveaways can be used as rewards for the game winners. Otherwise, you can consider these as swag bags to hand out at the end of the night. Consider imprinting your company logo or employee names on these corporate gifts to make a lasting impression. Plus, in the future, when your staff sees these gifts, they will remember the great night they had.
Another great way to boost morale and create a more positive company culture is to host the party during office hours. Whether you want to give everyone the whole Friday off or just half a day, it is the little things that can really increase morale and create this positive atmosphere.
Things to Consider When Planning a Corporate Christmas Party
Planning a holiday company party is not always easy. Making sure you plan in advance can be key. Here are some key things you should consider when planning your party.
Costs
Hosting a party and making it one to remember is not always easy or cheap. Here are some solutions to help you make it more cost effective:
Plan your budget earlier in the year to ensure you have enough funds for an epic night
Consider hosting it at the office instead of another venue
Opt for a potluck style meal where everyone can bring something to share
Discuss and pick the budget in advance to avoid extra unforeseen costs
Added Stress
Since the holidays are at the end of the year, you might want to already get into the relaxed spirit. Avoid unwanted stress at this time of the year, so consider these things when planning your company Christmas party.
Include your employees and get them to help plan some events
Keep the event low key to avoid too many organizational details
Plan in advance to keep the end of the year smooth and easy
Be sure to make your event as inclusive and accessible as possible so everyone can have a good time
Measuring the Impact
Parties can be fun without any impact. However, if you want to really take this time to boost your culture in a positive and meaningful way, then you need to consider their impact. There are various ways you can measure the long-term impact of your event with these simple steps.
Employee Surveys - Ask the guest to fill out a survey to see how much they enjoyed the party. You could even ask them to highlight some of the features of the party they liked the best, did they feel included, how are they feeling about the company after the party and other questions like that.
Attendance Rates - If you made the party RSVP, then you should check to see how many people actually attended. If people are excited to go and actually show up, then you can expect it to have a more positive impact on your culture.
Engagement and Interactions - Since one of the biggest benefits of company holiday parties is to get people talking to each other, watch to see that is what people are doing. Are the quizzes, games or trivia events bringing people together? The more people talk to each other, the better, so this is a key metric to consider.
Productivity - This will have to be measured after the party. The excitement before the party might make people less productive, but after the party, are people excited about the event? If yes, then your corporate holiday party was a success. Team members who feel appreciated and seen are more likely to show up to work with a positive attitude, ready to work.
Business Impact - Much like productivity, are your employees and colleagues bringing together more ideas? Is there better communication between teams because of the increased bond they might now have? These are the types of things you can look for to make sure you are building a strong and long-lasting company culture through your corporate Christmas party.
Do Company Holiday Parties Make Sense?
At the end of the day, company culture cannot improve or be built from one party. And corporate holiday parties are not just for spreading cheer. However, these steps can help you host a nice appreciation party for your employees, staff and colleagues that will lead to a better company culture. Company culture, after all, is the lifeblood that shapes the attitudes of everyone. These end of year parties can play a pivotal role in enhancing what already exists and making it even better. Enhance the overall success and reputation of your company by considering hosting a company Christmas party this year.