Office Christmas Party Decorations Ideas with Promotional Items
Are you looking for a way to bring holiday spirit into your office? Look for promotional products that bring joy to your office Christmas party this year. Plan your party with our party planning steps and all the promotional items you need to make it a night to remember.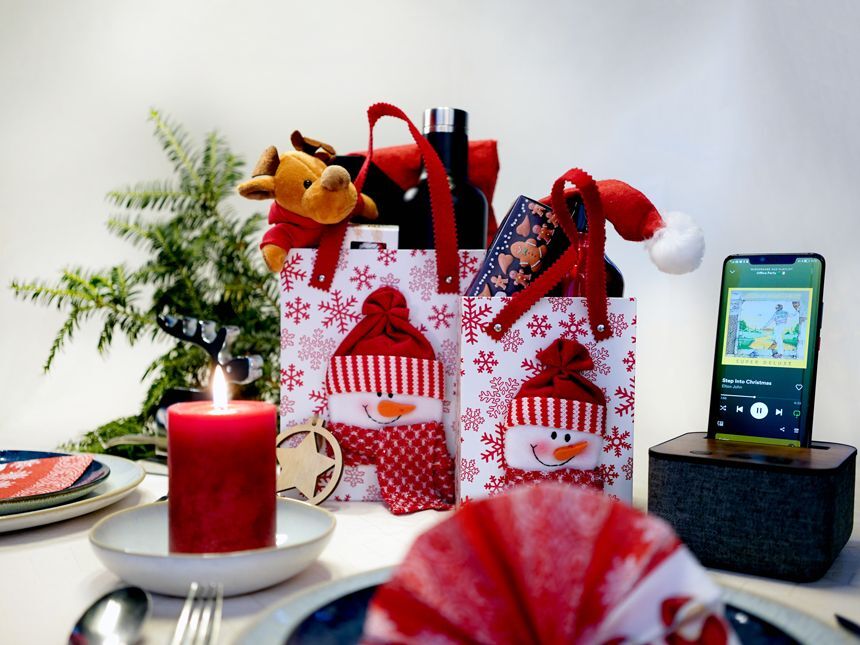 The end of the year can be a magical time. Maybe you live in a climate where December is snowy and cold or maybe you celebrate Christmas on the beach. Either way, one of the best things to do to bring the most holiday cheer to the office is by throwing an office holiday party. You might want to go all out with the decorations to create a festive and memorable event for your team. They have worked hard the last year and they deserve it. That is where promotional products come into play. Not only can you decorate your office for the annual Christmas party, but you can also create employee gifts and company swag boxes that will last longer than the actual party.
Get all your custom-branded merchandise right here at allbranded. You can choose from a list of our most popular promotional products or you can browse through our list of sustainable products to be more eco-friendly this year. Another great option is to choose from our list of great employee gifts to show your appreciation. Read more to learn about our top picks for promotional products as Christmas office party decorations and how you can best incorporate them into your holiday season.
Entertainment
You can't have a party without music to get people up and on the dance floor. One of the best ways to incorporate promotional products or promotional gifts into your party is by ordering some custom-printed audio products. While we do have promotional headphones, one of the best items to use would be the custom-printed Bluetooth speaker. You can connect any Bluetooth-enabled device to the speaker to blast your favorite Christmas or holiday songs.
Another great way you can incorporate promotional products into your office Christmas party is to create promotional employee swag boxes where you can include unique gifts like custom drones. These can be used inside or outside to keep guests happy.
Virtual entertainment is also a great option in case people don't want to hang out on the dance floor. Order some custom promotional virtual reality products to keep your guests entertained all night long.
In case people want to avoid electronic entertainment, there is also an option for regular custom promotional games. When you order these, not only do they make great employee gifts to hand out during the party or during Secret Santa but they can also be kept on desks or in the breakroom to provide endless entertainment throughout the year.
Here are some of our top picks for the perfect promotional product holiday party decorations for your office party.
High Sierra Kodiak IPX7 Outdoor Bluetooth Speaker - From $45.60
Virtual Reality Headset with Headphones - From $12.03
Lifestyle 7-in-1 Desktop Game Set - From $33.77
Food & Drink
People will get hungry and thirsty if you don't provide some type of refreshment for them. This is where promotional products come in. Let's say you order a buffet, a great way to get rid of the leftovers is by handing out custom-printed lunch boxes and other food storage containers. This way, you can be more sustainable by reducing food waste and everyone is happy because they get to take home some food from the office party.
Another tried and true classic would be custom water bottles. Perhaps there will be some adult drinks at the party, so the best way to stay hydrated is to drink water. Nothing is more eco-friendly and easy than a water bottle. Hand these out to all your office party guests so they stay hydrated all night long. Plus, if you bulk order, you can keep some around your office for the rest of the year.
The same goes for custom-printed tumblers or branded mugs with your company logo on them. Promotional products work best when people are reaching for the item all the time. Tumblers and mugs are the perfect items for large gatherings over the rest of the year.
Here are our top picks for you when it comes to promotional food and drink products.
Stackable Bamboo Fiber Bento Box - From $12.39
CamelBak Chute Mag 32oz Bottle Tritan™ Renew - From $15.32
Lagom 16oz Tumbler w/ SS Straw - From $5.10
Guest Goodie Bags
Finally, you cannot host a holiday office party without handing out some company swag in the form of employee goodie bags. If you have a photo booth at your event, then it might make sense to bulk-order custom-printed picture frames with your company logo on them. Or, you can add your own slogan or design to help your guests remember the fun night you threw them.
If you want to hand out something functional but still unique, consider ordering some custom keychains with your company logo on them. Keychains don't need to be boring! There are so many variations you can choose from now. Hand out practical yet fun holiday gifts at your office Christmas party.
Another great way to sneak in some more branding is by handing out a promotional bag. Your employees and guests can use this bag all throughout the year, whether that will be by bringing it to and from the office or when they are out shopping. Add your goodies to this bag and hand them out during the night.
Bamboo Photo Frame - From $10.20
Cinema Light Box Key-Light - From $0.72
Odessa 8oz Cotton Canvas Tote - From $3.28
For more information about what type of promotional products you can order as employee Christmas gifts, please read our latest blog post.
Whatever you choose to do for your office Christmas party, you should consider decorating it with promotional items. Not only will your employees and guests have a great time, but also a memorable one. They will remember your brand or company through the use of strategic promotional products. What will you choose?