Step-by-Step Guide to Trade Show Planning From Start to Finish
Learn everything you need to know about how to successfully plan and execute your next trade show. Here is our detailed guide to trade show planning from up to year in advance all the way through follow up after the event. Follow these steps or take some inspiration from these ideas so you can maximize your trade show event, giveaways and overall impact.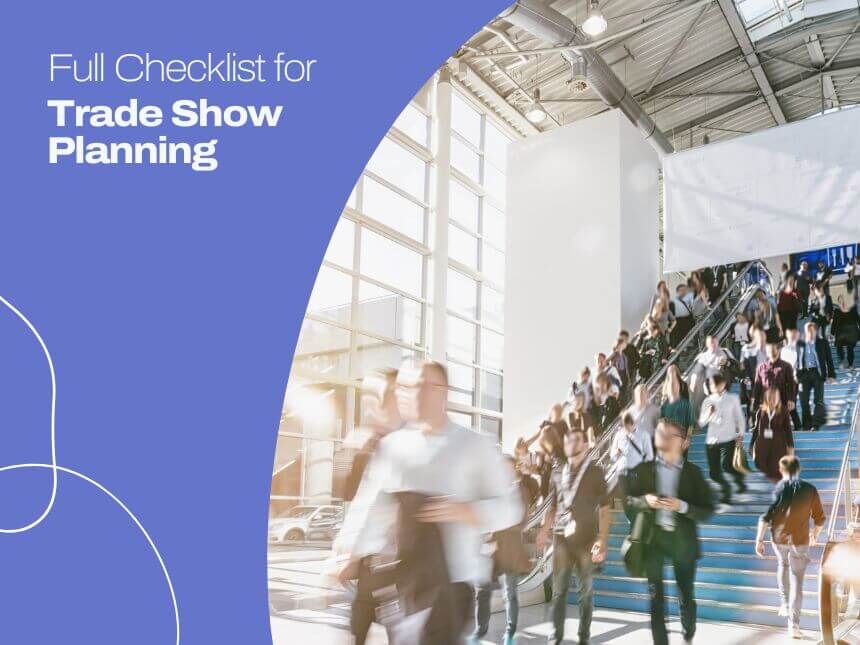 Welcome to the exciting world of trade show planning! Whether you're a seasoned pro or a first-timer, preparing for a trade show requires careful organization and attention to detail. Since you will be spending a lot of time, effort and maybe money, to make this show a success, you might want to consider a long-term timeline. To be sure you maximize your impact and reach at the show, including gaining more brand awareness and building leads, you will want to prepare in advance. In this blog post, we'll take you through the key deadlines and steps involved in planning for a successful trade show. From the early stages of pre-planning months in advance to the follow-up actions after the show, we've got you covered. Keep this walkthrough or checklist with you to make sure all your future trade shows will be a successful one.
6-12 month before: Create your trade show strategy
When you have several months ahead,from six months to even up to a year, it's time to lay the groundwork for a successful trade show. Start by setting clear goals and objectives. Determine what you want to achieve from the event, such as generating leads or increasing brand awareness. Consider your industry and what type of impact you would like to have when you are actually at the show. Research and select the most suitable trade show that aligns with your target audience and industry. Create a budget, identify your booth location, and book it in advance. Begin designing your booth and promotional materials, such as trade show giveaways, to ensure they are ready well before the show. Whether you will be bulk ordering some products at a wholesale price or limiting it to small quantities, consider ordering in advance to ensure your products arrive in time.
Quick Look Checklist:
Brainstorm and set goals for the event
Set your total budget
Define your target audience
Choose an appropriate trade show for your area of expertise
Book your spot and booth or table
Develop your marketing plan before, during and after the event
Design your booth or order promotional giveaways
3-6 months before: Start the trade show planning
Now that the trade show is approaching, it's time to ramp up your preparations. Finalize your booth design and graphics, considering eye-catching elements to attract visitors. If you have not already ordered, now would be a good time to research and order your promotional swag. Develop a comprehensive marketing plan to promote your participation, meaning how will your target audience remember you? This can include email campaigns, social media promotions, and targeted advertising. Begin reaching out to industry influencers, potential clients, and partners to schedule meetings and generate interest. Secure any necessary travel arrangements, accommodations, and shipping logistics to ensure a smooth experience.
Quick Look Checklist:
Book hotel rooms accommodations regardless of who is actually going, you can always cancel
Finalize and order any promotional items
Lock your marketing strategy in place
Start your pre-trade show marketing through email campaigns or social media
1-3 months before: Finalize all event plans
As the trade show draws near, it's essential to tie up loose ends. Confirm all booth services, such as electrical connections and internet access. Order any necessary equipment or rental items to enhance your booth's functionality. Create a schedule and assign roles to your team members for smooth on-site operations. This could include set up, take down, who will be doing what and where everyone will be. Also consider setting up meetings with potential clients and partners in advance who you know will also be there to guarantee a time slot to speak with them. Prepare a checklist of materials and supplies needed, such as business cards, brochures, and giveaways. If you have already ordered your products, now would be a great time to package them nicely for the event. Or if you want everyone at the booth to wear some company swag, now would be the time to order any trade show apparel for everyone to wear. Begin training your staff or anyone who will be attending the trade show on engaging with visitors, capturing leads, and showcasing your products or services effectively.
Quick Look Checklist:
Confirm booth location and anything else for the event
Research and finalize travel arrangements
Inform and train booth staff
Create a final check list of products to bring on the day including cables, products, chairs, etc.
Contact trade show for any last minute details
Schedule meetings in advance with potential clients or partners at the conference
Order any trade show apparel for booth workers
1-4 weeks before: Begin final prep and pack for the trade show
With only a few weeks left, it's time for the final push. Double-check all logistics and confirmations, ensuring nothing has been missed. Pack and ship your booth materials and collateral to the trade show venue, allowing ample time for delivery. Create a detailed itinerary for the trade show days, including setup, teardown, and any scheduled meetings or presentations. It might also be good to create a master contact list of who will be there to avoid any lapses. Conduct a thorough review of your booth setup instructions and ensure you have all the necessary tools and equipment. Get your team excited and prepared for the event, emphasizing the importance of professionalism, enthusiasm, and engagement. Review any last minute questions about what topics they should discuss or what the overall goal of the event will be.
Quick Look Checklist:
Gather and prepare all booth equipment and goodies
Ship anything in advance if needed
Prepare a master itinerary of the day or weekend
Create a master contact list for the attendees
Compile cheat sheets for quick booth setup
Engage with your team to go over role-playing and get them excited for the event
Day of the trade show: Go for it!
Finally, the big day has arrived! Now all of the prepping and planning you have done is finally going to pay off when everyone sees it. Set up your booth according to your plan and design that you created. Have your team engage with visitors, capturing leads and building connections. Demonstrate your products or services, answering questions and addressing concerns. Take notes, gather feedback, and observe your competitors and industry trends to ensure that you are able to stick out from the rest. Network with fellow exhibitors and attend relevant seminars or sessions to expand your knowledge. Conduct any meetings you have scheduled in advance. Be attentive, approachable, and memorable to make the most out of the trade show experience.
Quick Look Checklist:
Set up your booth and get the promotional giveaways ready
Smile and greet visitors to engage with them
Consider a no-phones policy to ensure full engagement with attendees
Talk to people about their needs and how your product or service can help them
Offer product demonstrations
Take notes about important to do's for after the event
After the show: Follow up
Once the trade show is over, the work doesn't stop there. Follow-up is crucial to capitalize on the connections made and the leads generated. People got to know your brand, but this is where you can drive home your message. Organize and review the leads you gathered, categorizing them based on their potential. Then once you have done that, reach out to each lead with personalized messages, thanking them for their time and expressing interest in further discussions. Provide additional information, share relevant resources, and schedule follow-up meetings or calls. Ideally, you want to give them 2-3 options for how they can further work with you and your brand. While ideally this would be written, you can also consider calling them directly or sending personalized emails to avoid looking spammy. Analyze your trade show performance, assessing the success of your goals and identifying areas for improvement. Finally, evaluate the return on investment and incorporate the lessons learned into your future trade show strategies. Then who knows, maybe you are ready to start all over again for the next time!
Quick Look Checklist:
Follow up with all high-potential leads
Send out personalized messages
Understand what went wrong and what went right
Evaluate the ROI you received
Maybe even start to think about your next trade show planning
Continue to follow-up throughout the year
Final Takeaways
Trade show planning is a multi-faceted and oftentimes, long process that requires careful attention to deadlines and details. By following these steps and staying organized throughout the months or even years leading up to the event, you can ensure a successful and impactful trade show experience. Remember to plan well in advance, engage with visitors during the show, and maintain the momentum through effective follow-up. Now that you're armed with this guide, go forth and conquer your next trade show with confidence!