10 Healthcare Promotional Items for Medical Professionals
If you are a medical professional, whether you are a nurse, doctor, dentist or anywhere in between, then you should consider these products. Add your custom company or brand logo to these items to hand out in your office or at medical conferences. Make an impact with your current and future patients with these special promotional giveaways. Consider these healthcare promotional items for your next round of promotional marketing.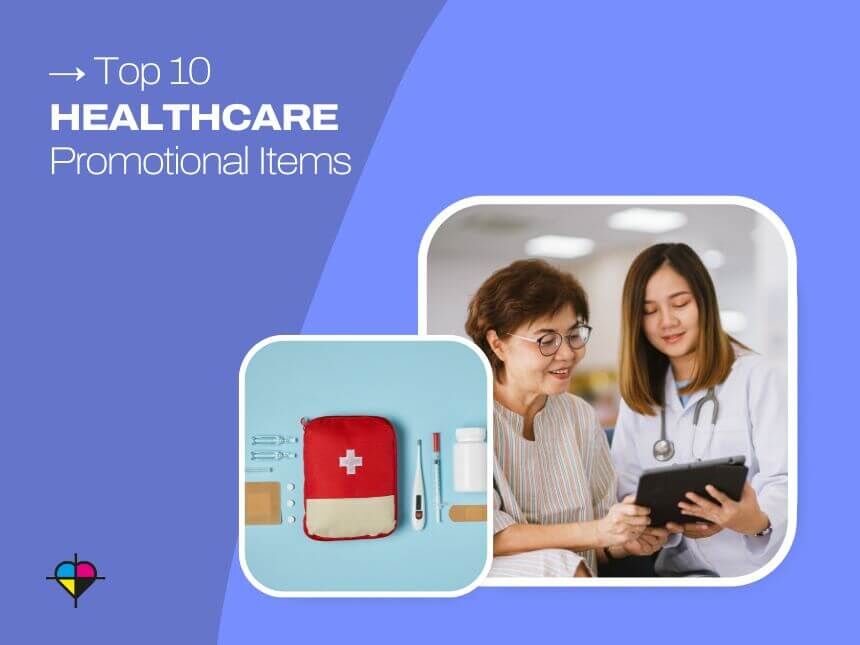 Healthcare promotional items are a powerful tool for medical professionals to raise awareness, promote their practices, and attract new patients. In this blog post, we will explore the top ten promotional products commonly found in dentist offices, doctors' offices, and at medical conferences, among other popular places. We'll discuss the advantages and disadvantages of each item and how they can effectively bring awareness and future patients to these healthcare establishments. If you work in the medical professional industry and you have not already taken advantage of these healthcare promotional products for your marketing strategy, then take notes because you might want to change your mind after reading.
Product #1 - Pens:
One of the most popular healthcare promotional items, and frankly one of the most popular products overall, is the trusty branded pen. Dentist offices, doctors' offices, and medical conferences alike, to name a few, often hand out pens featuring their logo and contact information.
Advantages
The advantage of pens is their practicality and usefulness. Patients and conference attendees use pens daily, ensuring consistent brand exposure. Pens also don't need to leave the office or practice either. These make great additions to the front check in desk where patients can fill out important documents and such. Or the staff can carry these pens in their pockets to write down useful information during patient visits. Practical and budget-friendly, promotional pens are perfect for any campaign.
Disadvantages
However, the disadvantage is that pens can be easily lost or misplaced, potentially limiting their long-term impact. Since pens are also really popular, your practice or office might not make the lasting impression you need to stick out from the other offices. You can make up for that by choosing catchy pen designs or adding a fun and creative logo to your pens.
Product #2 - Notepads, Notebooks & Journals:
Custom-printed notepads, journals and notebooks are another effective healthcare promotional item. Dentists, doctors, pharmacists and other medical professionals can provide notepads with their logo, website, and contact details. Notebooks offer a practical tool for jotting down notes, prescriptions, or appointment reminders during patient visits. These can also be handed out during medical conferences where your staff might be attending.
Advantages
The advantage of notepads is their longer lifespan compared to pens, ensuring prolonged brand exposure. These products can also be used for personal and professional situations, making them perfect for creating an even longer lasting impact.
Disadvantages
One disadvantage is that they may not be as portable as pens, limiting their reach outside of the office or conference. Plus, if your focus is to be more tech-oriented, then it might not make sense to hand out notebooks as they are note the eco-friendly option.
Product #3 - Drinkware, Mugs, Travel Mugs & Tumblers:
Promotional drinkware, such as reusable water bottles or coffee mugs, can be a hit in healthcare settings. Other products like tumblers with straws are also ideal. Patients and medical conference attendees appreciate receiving items they can use daily. Whether you choose to hand these out to your patients, these would also make perfect additions to any break room or office kitchen. Hand these out to new employees as well in onboarding boxes.
Advantages
The advantage of drinkware is its visibility, as individuals carry it around in public, increasing brand exposure. Additionally, it promotes healthy habits like hydration, especially if you choose to hand out water bottles. Since many of these products are made from sustainable materials, this makes them great alternatives to single use plastic.
Disadvantages
However, the disadvantage is the cost associated with producing and distributing drinkware, which may be higher compared to other promotional items. Since the price per unit is generally higher than smaller items, especially when adding an imprint to the product, it might not be possible to buy as many at one time due to these costs. As mentioned above, if you want to save some costs, then consider handing these out to special patients or only hand them out to staff only to avoid higher costs.
Product #4 - Hand Sanitizers:
In the age of heightened hygiene awareness, custom hand sanitizers have become increasingly popular. Medical offices can provide travel-sized hand sanitizers featuring their logo and a health-related message, however, it is not only limited to these offices.
Advantages
The advantage of hand sanitizers is their practicality and relevance to healthcare settings. They promote cleanliness and contribute to a positive patient experience. Sanitizers are also perfect products for such a niche category. When people pick up and use a hand sanitizer, it makes sense to have a medical logo of a doctor's office information on the front. Show your patients, both current and future, how much you care about them and their health.
Disadvantages
The disadvantage is that they may run out quickly, requiring frequent replenishment. However, you can choose from the various sizes on the website, making it possible to order larger amounts. You could also make these freebies when patients leave the office to ensure they never run out of the good stuff.
Product #5 - Fidget Spinners & Stress Balls:
Stress balls, and now the popular fidget spinners, featuring the office or conference logo are a fun and unique healthcare promotional item. They can be particularly effective in dental or medical settings where patients may experience anxiety. Keep some of these products in each room to make sure they are accessible for everyone when they need it. Or hand out some of these at a trade show or medical conference to make sure you stand out from the crowd with your unique promotional product.
Advantages
The advantage of stress balls and other types of fidget spinners is their ability to create a positive association with the healthcare provider. Patients can use them to alleviate stress and remember their visit or conference experience. Plus, many come in fun shapes, giving your office the chance to show your funny side to patients.
Disadvantages
However, the disadvantage is their limited use outside of the office or conference, potentially reducing long-term visibility. This is a product that not everyone might need or want, making it more likely to be thrown away or just simply forgotten.
Product #6 - Toothbrushes:
Toothbrushes are a unique and practical healthcare promotional item that can make a significant impact in dental offices. The advantage of toothbrushes is their direct relevance to dental hygiene, aligning perfectly with the services provided by dental offices. However, orthodontists can also take advantage of these products. Patients appreciate receiving a high-quality toothbrush featuring the dental office's logo and contact information, as it reinforces the importance of oral health. These promotional items are commonly handed out during dental check-ups, cleanings, or as welcome gifts for new patients. Make it a fun reward that gets people through the poking and prodding the dentist might do.
Advantages
The benefit for dental offices is twofold: toothbrushes not only create a positive brand association but also serve as a tangible reminder for patients to schedule regular dental visits. Healthcare products like this also encourage people to switch out their own toothbrushes after some time.
Disadvantages
The disadvantage, however, is that toothbrushes have a limited lifespan, as they need to be replaced regularly. Nonetheless, this type of marketing can effectively enhance brand recognition, foster patient loyalty, and ultimately contribute to the overall success of dental offices. Since it is such a niche market, many other dental practices might also hand out these types of toothbrushes. That just means you can choose unique designs, like toothbrushes made from bamboo or use special branding colors from the wide selection of Pantone Colors.
Product #7 - Lip Balm:
Logo-branded lip balm is a useful promotional item, especially in healthcare settings. It provides relief and protection for patients' lips while prominently displaying the medical professional's logo.
Advantages
Lip balms like this are perfect for all occasions and people. Choose from various flavors and colors, which means you can make it uniquely yours that matches your overall branding. These balms are so practical and small, meaning people can carry these products with them everywhere they go.
Disadvantages
The disadvantage is that lip balm has a limited lifespan, as it is typically consumed over time. Plus, on the other side, since they are so small, they can often get lost, which in turn reduces the lasting impact this type of product might have.
Product #8 - Tote Bags:
Promotional tote bags offer a practical and reusable promotional item. Patients can use them for carrying documents, books, or groceries, which increases the brand's visibility in various settings. Many are made from natural materials, like cotton or jute, making them a great sustainable option in terms of eco-friendly promotional products.
Advantages
Tote bags, promotional bags and cotton bags alike are perfect because they are so versatile. Many give you the option to print your logo on both sides and in various printing methods. Screen printing and embroidery branding options allow your bags to be as customizable as you would like.
Disadvantages
However, tote bags may require a higher investment compared to other promotional products. In many cases too, unless the design is unique or catchy, people might not want to carry these around. Consider choosing some full-color printing options or print on both sides of the bag to make sure your artwork really stands out in people's minds.
Product #9 - First Aid Kits:
First aid kits imprinted with the medical professional's logo are practical and highly valued promotional items. Patients appreciate receiving a handy kit that can address minor injuries or emergencies. By providing branded first aid kits, medical professionals not only demonstrate their commitment to patient care but also increase brand visibility in homes, workplaces, and other environments.
Advantages
The advantage is that first aid kits have a long lifespan and can reinforce the medical professional's expertise. Plus, many professional settings could benefit from having some of these products around in case of emergency. These kits are also great to hand out in goodie bags at festivals or other outdoor events where accidents are more likely to occur. Handing out first aid kits at the end of o doctor visits can also help reinforce the practice too since the patient has a small reminder of their visit.
Disadvantages
The disadvantage is that they can be more costly to produce compared to other promotional items. Many of the products have a higher price point per unit since these first aid kits include a lot of products within them. However, many of the options for medical goodies allow for small quantities to be ordered. This means while there is a higher price point per unit, you do not need to order so many at one time.
Product #10 - Lanyards and Card Holders:
Lanyards and card holders bearing the medical professional's logo are popular promotional items, especially in medical conferences and events. These items offer practicality and convenience, allowing attendees to keep their ID cards, access passes, or name tags easily accessible. By providing branded lanyards and card holders, medical professionals enhance their visibility during conferences, foster networking opportunities, and create a professional image.
Advantages
The advantage is that these lanyards or card holders have a high likelihood of being reused and seen by a wide range of individuals. The doctors, nurses or other medical staff can wear these around the office to create a company uniform. When the staff wears these types of products all the time, it creates a sense of loyalty and sense of pride in the work they are doing.
Disadvantages
However, the disadvantage is that their impact may be limited to conference or event settings. Patients or the target audience who receives these items might not be as likely to use them in another setting outside the healthcare profession. Lanyards, while useful and practical, might not be something everyone needs, meaning they will not have as great of an impact as other products potentially could.
BONUS: Product #11 - Lunch Boxes:
Lunch boxes featuring the medical professional's logo can be a unique and practical promotional item. They are particularly suitable for promoting healthy eating habits and fostering a positive association with the medical professional's brand. Patients, employees, or conference attendees will appreciate receiving a branded lunch box that can be used daily.
Advantages
The advantage is that lunch boxes offer substantial visibility in various settings, such as workplaces or schools. These lunch boxes would make great onboarding gifts to new staff hires. This type of marketing product can also promote more bonding among the staff, as it would encourage workers to bring their food from home. Maybe it would encourage people to eat lunch together as well. Since it is well known that medical professions can have a hectic schedule, something practical like lunch boxes provide a useful resource to these professionals.
Disadvantages
Like with many other more expensive products, one large disadvantage is that they may require a higher investment compared to other promotional products. As mentioned before, products that have a higher price point can be a bit daunting to order. However, these lunch boxes could be handed out to a smaller group meaning you would not need to bulk order these products.
Healthcare promotional items serve as valuable marketing tools for medical professionals. All of these products listed above are popular choices in dentist offices, doctors' offices, and other various places like medical conferences. Each item has its advantages and disadvantages, and their effectiveness in bringing awareness and future patients can vary. By carefully selecting and strategically distributing these promotional items, medical professionals can increase their visibility, leave a positive impression, and attract new patients to their practices or conferences. To make it easier for you, we have combined the bestselling products from these categories to ensure you can get the best products to help promote your services.