allbranded's First Year of Promotional Products & Corporate Gifts
Happy birthday to the allbranded US shop! It is official, we are one year old and we could not be happier! Learn about all the things we have gotten up to the past year, the things we have achieved and all the things we hope to accomplish this year.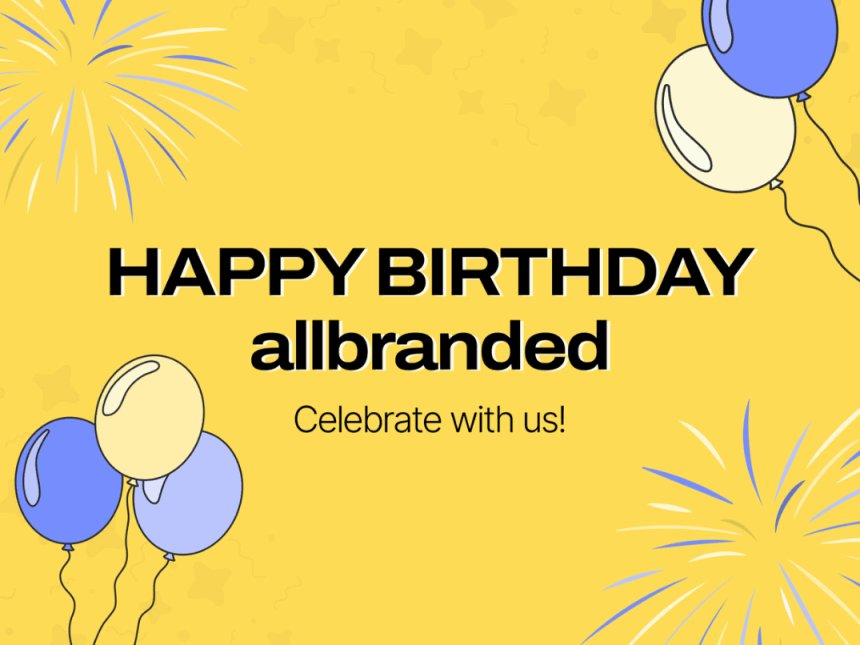 Happy birthday to us! We are so excited to still be here after one year and we hope for even more years. However, it would not have been possible without the support and patronage of people just like you! Thank you for all your orders, feedback, questions and interest in our little company. In order to celebrate, we wanted to recap some of the things that happened this past year that we are excited about. We will walk you through what makes allbranded special with our services, showcase some of the campaigns we ran and highlight some of the biggest categories and products that you loved the most this first year. This is only just the beginning for us here at allbranded and we hope you will continue on this journey with us.
allbranded started out as a German company, based in Hamburg, Germany, that provided promotional products to people in Europe way back in 2011. However, we were able to expand into Switzerland and Austria in 2015, then in 2016 we grew even more and launched our French project. We just couldn't stop growing because in 2017, we expanded even more into Europe, launching our websites in Ireland, Sweden and Spain. Then in 2020, our eyes were on the UK which is when we began selling our products there. Most recently, in 2022, we started the US project - which is what we are celebrating here! You can learn more about our story here to see some more of our outstanding accomplishments from the past 11 years.
We are sustainable
We take pride in our work and efforts to reduce our carbon footprint and our overall impact on the environment. We are part of an alliance called "Leaders For Climate Action," where we commit to taking measures against climate change. Not only do we take climate change action, but we strongly encourage and only work with suppliers and partners who have a similar outlook. While you might think that promotional products are not very sustainable, we have a dedicated eco-friendly promotional products category for products that fit specific environmental requirements.
We provide express options
Another special feature about allbranded is that we provide an option for express products so you can get your promotional materials faster. Our 48 hours express production means that we can start producing and branding your products within the first two days of ordering. This feature is perfect if you are on a tight schedule or if you just can't wait any longer to receive your awesome company swag and promotional products.
We offer inspiration
If you are just starting out and you are unsure of what promotional item to purchase, we have a wide selection of topics and themes for you to choose from in our inspiration section. This means, we have assembled the most important products for popular events, campaigns and holidays so you don't have to worry. Some of our most popular pages include back to school for our universities and schools or Christmas gifts for when you need to think of some employee gifts for your staff. If you want to be inspired for your next trade show or if you need some promotional giveaways for your career fair, we also have a category for that too!
We connect and engage with you
See how much fun we are having in this blog post? Imagine how much more fun you could have with us if you signed up for our newsletter. We send out weekly newsletter directing you to the most popular products, upcoming events and even sending out special, exclusive coupons for you to use in our shop. There is so much going on there, you don't want to miss out!
We work with you
We couldn't have come this far without you and that only happens because we like to make things work. Do you see something on our online shop that is 99% perfect? Maybe you would like to adjust the handle on the mug, or choose another product color to fit your brand, well we can do that for you! We offer the option for special production on products when you aren't feeling 100% satisfied with your business merch.
What allbranded has been up to this past year
This year has brought a wave of hard work, but it has ultimately been very rewarding. We were able to run multiple successful campaigns, including the summer festivals, a back to school campaign, a large Black Friday and an even larger Christmas campaign.
Many of these campaigns included special blog posts about the products we were highlighting. These campaigns also included many discount codes, to make sure that you were happy with us and our performance, a little thank you if you will.
Our top categories, as voted by you
Over the past year, you have cast your vote by ordering many products. However, these were the categories that you simply could not get enough of – and we can't blame you!
Drinkware
Promotional drinkware is the most popular category, which makes sense. Some of the most traditional and classic promotional items come from this category. We have a wide range of promotional mugs and branded water bottles to keep all your clients, staff, partners and customers happy and hydrated. Plus, many of these products range in price, so you can find the right product for your budget. There is something here for everyone, which is why it is the most popular category!
Backpacks
While backpacks can sometimes be on the more expensive side of promotional products, you still could not get enough of them this past year. Whether you were bulk ordering some drawstring bags to hand out at business conferences or if you bought some branded laptop backpacks to hand out as employee gifts, you couldn't get enough.
Promotional Bags
Another classic, the promotional bag, has been a favorite of yours this year. Tote bags are perfect for the business world and for personal use because they are so practical. Plus, with shopping bags, you know that you can get a lot of brand awareness and recognition when your brand logo is printed right on the front.
Mobile Accessories
Since many people are on the go these days, it makes sense that companies like yours would be reaching out to bulk order some promotional mobile accessories for their staff. Some of the most popular have been power banks or even wireless chargers since those can be used by your staff or clients who frequently travel for business.
Home & DIY
Despite only being a major player during one season of the year, branded blankets have been some of the most popular products in our first year. We cannot blame you as many of our blankets are cozy and warm Sherpa blankets, made from the softest Sherpa wool. We offer a wide variety of home goods on our site, perfect for all types of seasonal promotional products too, not just winter.
allbranded says THANK YOU!
Thank you so much for your support this past year. You are the reason we do what we do and we cannot thank you enough for continued appreciation this year. We want to say thank you again and we look forward to many more years working together.