The Top Promotional Products & Trends in 2022
We have gathered and wrapped up all the data and details for allbranded in 2022. You can learn about the top trends in the promotional market and what product category made the biggest image this year. You might even surprise yourself with what we found - check it out now.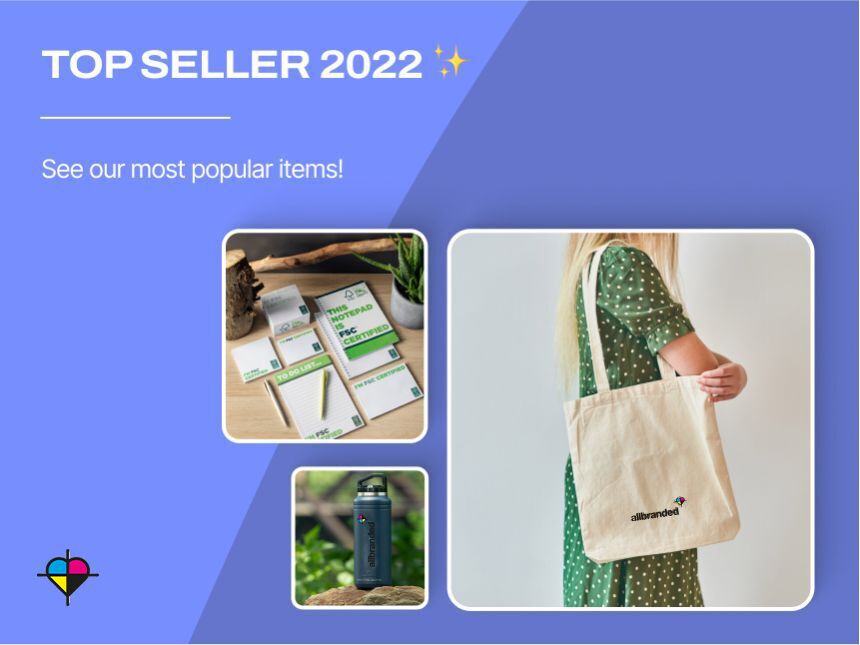 Another year has come and gone and with that, we have learned a lot about ourselves and the ever-changing trends and markets. Here are some of the key takeaways from this year, whether that was market trends, customer behavior, or even the top products and categories to combine both topics. Here is a wrap-up on our biggest highlights, takeaways, accomplishments, and learnings from 2022.
Trend - Sustainability is a Key Factor
The people have spoken and they made it clear - they look for promotional products that not only promote their brand but are also eco-friendly products. Due to this demand, we created the green, "eco-friendly" tag to help you quickly recognize these sustainable products and rest easy knowing that your awesome company swag didn't have such a negative impact on the Earth. You can read more about our findings in the allbranded case study we conducted earlier this year to find out what drives our customers when choosing their promotional products. The great thing about sustainable products is that you can find them in a wide variety of product types, from eco-friendly bags and home goods to eco-friendly kitchenware and office supplies.
Category - Tote Bags
Custom-printed tote bags come in as our top category this year and it makes sense. Promotional bags can be used for a variety of reasons, like festivals or Pride, or even just as a nice welcome gift to any new hires. Plus, when you add your company logo to them you can bulk order enough to hand out at your next trade show or convention. Tote bags make the perfect goodie bag to hold all your other special promotional giveaways. Plus, you can choose from a variety of materials for your tote bags, including cotton bags, recycled plastic, canvas or even jute. They are so versatile and long-lasting so you know you can get the most out of your marketing budget with these tote bags.
Trend - Employee Gifts
2022 has seen a nice growth in employee gifts being purchased. Whether you are looking to order some holiday and Christmas gifts or just a little gift to hand out to hard-working employees to show your appreciation, you can find great promotional products here. Employee gifts can range from a small gesture like a promotional pen or it could be something larger like a custom-printed laptop backpack. For those looking for items that are more winter-specific because you want to hand out some holiday gifts, promotional blankets have really jumped in popularity, especially Sherpa blankets. Whatever the occasion, continue to say thank you with promotional employee gifts in 2023.
Category - Drinkware
When you think of promotional items, what do you think of? If you said water bottles or drinkware, then you would be spot on. Our second most popular category this year was drinkware. Whether you are bulk ordering some custom-printed mugs to update your office kitchen or if you want to send out some branded tumblers for any new hires, you have come to the right place. Promotional drinkware is a classic because it is so practical for everyday use. By ordering these products, you will have your employees sipping coffee or tea from your company mugs all year long.
Well there you have it! Our top trends and top categories of the year. If you would like to read more about our top products, be sure to check out our latest blog post - Top Company Swag Ideas from 2022. Based on what you read here, do you have a guess as to what the top product could possibly be? Otherwise, you can check out some of our favorite products down below!
Want even more allbranded content in 2023?
Stay up to date with all our behind the scenes and exclusive content coming in 2023 when you sign up for the allbranded newsletter. Check out what we are working on, from sustainability topics to even more product highlights and features. By subscribing to this mailing list, you will be the first to hear about all of our upcoming promotions and specials. Stay in the loop for everything we have planned for next year when you register your email to the allbranded mailing list today! We can't wait to see you there!